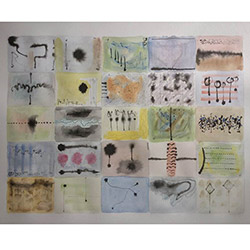 The impetus for this album came when Argentinian guitarist Tomás Cabado received a grant to visit Switzerland for a few weeks in 2019, and play with people he admired there. Cabado chose well, visiting Stefan Thut in Solothurn, Manfred Werder in Zürich, Jürg Frey in Aarau, and Christoph Schiller in Basel — an impressive list which emphasizes Schiller's class, as well as hinting at Cabados' links with Wandelweiser, who released his album Historia De La Luz: Cuaderno De Guitarra in 2020; together, that album and this one added Cabado to the distinguished list of those who have recorded for both Another Timbre and Wandelweiser, alongside all four of those he visited in Switzerland, plus Antoine Beuger, Cyril Bondi, Dante Boon, Eva Maria Houben, Michael Pisaro.... distinguished, indeed.
When Cabado and Schiller got together in June 2019 — having already met when Cabado visited Switzerland back in 2017 — the guitarist suggested they record together, which they did. This album comprises the resulting recordings which feature one Cabado composition, one Schiller composition and one improvisation. Cabado is credited with playing guitar, objects and recordings, Schiller with his usual spinet plus objects used as preparations. The album opens with the fourteen-minute improvisation "June 26th" which sounds like a warm-up as well as two friends and colleagues becoming reacquainted with one another; it immediately demonstrates that the two are on the same wavelength and understand each other's playing, responding appropriately and sensitively throughout.
The improvisation moves seamlessly onto Schiller's ten-minute composition "From 'Schachtel' ", which is primarily a structured call-and-response dialogue between guitar and spinet, one again showcasing the empathy between the two players as well as highlighting the compatibility of their instruments, not a common combination in a duo. Again, the transition between tracks is all but seamless, this time into the album's longest piece, Cabado's twenty-three minute "Basel Species". Unsurprisingly, the composition opens with an extended passage featuring guitar, before broadening out to include the spinet, with Schiller perfectly complementing the guitar with his instrument's full range of sounds. The overarching impression created by this album is that Cabado and Schiller work very well together and we should hope for further duo recordings from them.
Comments and Feedback: