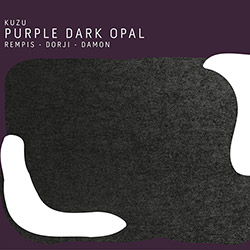 Kuzu is the trio of reed man Dave Rempis, percussionist Tyler Damon, and guitarist Tashi Dorji, described on their web site as "hard charging but patient". That's an apt description I think, as they take their time here building a lengthy exposition. In some circles this would be described as an old-fashioned workout, no super-quiet scratch or extended technique study for this group.
The single nearly hour-long piece, entitled "To The Quick", starts with Damon thwacking brushes for a short solo before Rempis and Dorji enter with a slow melodic theme. There's a strong Coltrane feel during some parts, as things build to a frenetic pace early on. Over the course of its 55-plus minute playing time the music rises and falls in a completely logical manner, each instrumentalist listening closely and shaping the outcome spontaneously. Now and then one instrument will take the lead, and we hear thoughtful solo turns or duo sections that work to give the music some different textures.
Damon's drumming is exemplary throughout, and his solos are great examples of quick thinking matched to wonderful technique. Dorji's guitar moves from sparse chording to frenetic scrabbling, all in service to the feeling of the moment. The whole performance is well recorded, allowing the listener to focus on one player or take in the whole shebang as they please. Nothing new or groundbreaking, but a solid example of what can be done by seasoned professionals with very big ears.
Comments and Feedback: