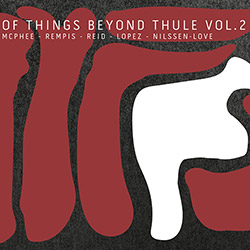 According to Wikipedia, Thule "is the farthest north location mentioned in ancient Greek and Roman literature and cartography" and that "In classical and medieval literature, ultima Thule (Latin "farthermost Thule") acquired a metaphorical meaning of any distant place located beyond the 'borders of the known world'." In addition to this geographical-historical definition, something more is added in the sleeve of this latest release by this intrepid improvising quintet in the form of a quote from Edgar Allan Poe's poem, "Dream-Land" which speaks of "ultimate dim Thule/...a wild weird clime that lieth, sublime,/ Out of Space — Out of Time."
These facts just serve to get a perspective on the aesthetic these five musicians espouse on this, their second release of material recorded on the night of December 16, 2018 at the Hungry Brain in Chicago. The music is indeed exotic in the best sense and brings the reader to regions of the imagination that are off the beaten track and which add up to an adventure of mythical proportions. This is not surprising when you get the likes of Joe McPhee (pocket trumpet and tenor saxophone) Paal Nilssen-Love (drums), Dave Rempis (alto and baritone saxophones), Tomeka Reid (cello) and Brandon Lopez (bass). The mix adds up to a potent brew of storm-tossed sonic seas along with serene moments of aural clarity.
The first track is all awash with a frenzy of excitement. Titled "Osel," a name that can refer to a number of people and things, creating a sense of polymorphous meaning, an apt depiction of the energies of this no-holds-barred piece. The titles of the other three tracks are equally intriguing and push the listener to make imaginative connections. "Kaali," which starts off softly, then evolves into strands of interwoven lines, could refer to the Hindu goddess Kaali, or a village in Estonia, or perhaps even an asteroid of the same name.
Smøla is a municipality in Møre og Romsdal county, Norway and is an apt title for this piece that saunters along scenically. The final piece, Hekla, is perhaps a reference to a volcano in the south of Iceland, and its quiet bubbling opening that evolves into an explosive group foray is evocative of just that.
Suggestive titles notwithstanding, the music on this release is a trip you will want to stay on for awhile in its own right just for the sheer thrill of the inventive and soulfully playing by these wonderful musicians.
Comments and Feedback: