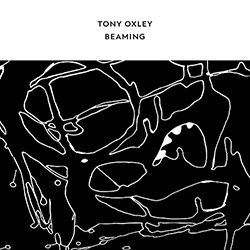 I put on Beaming without reading more than the cover. As I anxiously awaited the first BOOM or metallic specter whooshing out of Tony Oxley's signature cowbell, I read "Tony Oxley: electronics and concept; Stefan Holker: acoustic percussion". Translated, (thank you Mark Wastell for the notes), the veteran drummer sampled early 1970s recordings of himself doing, what Derek Bailey described as (paraphrasing), "Tony's playing his frames again". These are quasi Aeolian harps, lyres and old hardware effects racks, all overstrung like a Cat's Cradle and adorned with cutlery, cheese slicers, even more kitchen devices, bells, cymbals, amplification, an octave splitter, mini mics, but curiously nothing with a membrane to bang on. Images of a few of them give the impression of athletic cousins of Hugh Davies' Shozyg.
Regardless of playing in a big band, a solo setting or duo with Bailey,* Oxley's percussion work can often be ferocious and possessed by the spirits of American band leaders Krupa and Rich (it might be the good posture and that assured grin); I would need to dig deeper to find a numerological or astral connection based on dates when Led Zeppelin released their first and last notes, but Bonham and Oxley's kicks give me the same rush. He can make every pause a tense one, as his outbursts are bold and startle me in the same way that human to human head-butting in movies does. He is also elegant and can eye nineteen different spots and gently tap each in a sweeping one-second glissando. And then he's smacking a hand drum with a janky rattle and flicking individual wind chimes. Oxley's performances are worth celebrating, and he can join the elite club of those who merit the words "You Rock".
However, instead of commands to action, the power of Beaming is in the persuasion and busy complexity of what sounds like someone conjuring up a whirlwind inside a huge prepared piano. The electronics portion, a collage of everything described above plus some xylophone and marimba and extreme time-mangling etc., sits a bit fuzzy and isolated as a simmering orb in the middle of the mix. Holker pings and smacks a little brighter and wider with a loose organization that steps in / stays out of the way when not needed while also fostering the micro inside an acoustic...frame. The album might not be the best showcase for Holker's musical identity (it's easy to lose track of him), but is there a better compliment than, "...able to keep up with master drummer Tony Oxley's unseen whims while confidently trading licks with his mentor"?
Beaming utilizes a lot of twists and bends to emulate steel and Hawaiian slides, warbling music boxes, ghosts, reptiles from Greek myths, and so on. Oxley morphs the audio into pulling off tricks the really creative guitarists use as a language, like "behind the nut" and dropping stuff onto a stringed instrument from the roof. Further verbal or written statements will keep heading south, as the only description I gave my partner when removing my headphones was, "Lots of metal, as in materials...but this guy usually does this other thing...it's percussion."
Think of the currently-living jazz legends who began carving new paths in the early 1960s. Now, other than accidentally hearing one of their works in a Dell ad, think about the last time you purposely listened to anything of theirs (new" compositions) from the past couple decades. We all have mouths to feed and library wings to donate — and the esteemed Coreas and Hancocks are still dope — but watching an (barely) octogenarian still smashing the borders of experimental music is hopeful. Not just because of the "wow, he's still at it" aspect, but because Oxley is still finding wild directions and seeking perfection with an already flawless-from-my-vantage, forty-year-plus idea.
* Bailey always seemed a perfect match for Oxley, as muscular does really well alongside ornery.
Comments and Feedback: