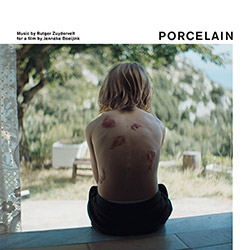 Porcelain is a soundtrack by Zuydervelt (who also operates under the nom, Machinefabriek) for a film of the same name by Jenneke Boeijink. It consists of ten tracks used in the film and an additional twelve outtakes.
It's very much soundtrack music, quite atmospheric, with gentle swathes of electronics and cello (Francesco Guerri) slowly wafting past over soft, deeper throbs, faint bird calls heard in the distance. At a few moments, there are interpolations of bit of Purcell from 'The Faerie Queene'. Some listeners may, on these pieces, harken back to Eno's experimentation with Pachelbel on 'Discreet Music'. Indeed, 70s Eno isn't the weakest comparison you could make here, though Zuydervelt's music, gauzy as much of it is, contains more grit, has a stronger "backbone" and a track like 'Laser Game' has an almost Pendereckian feel. One of the problematical things about albums of soundtrack music is, if it's doing its job, the music might be perfect for the movie (that is, not overly noticeable) but less able to stand on its own without the visuals. Zuydervelt's work manages to pretty much succeed on both counts. That is, one can easily imagine it in a cinematic context and get the strong feeling it would work entirely well therein. Listened to at home, on a stereo, it's a non-obtrusive experience, one that tints the ambience rather than exerting any overt presence, but that works just as well in its own way.
Thoughtful, soft and aurally quite attractive, Porcelain does what it does superbly.
Comments and Feedback: