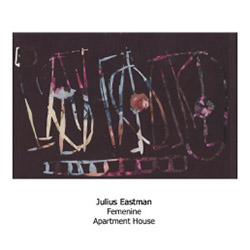 "Femenine (1974)" commences ritually, with the steady shaking of sleigh bells. A vibraphone follows with a simple, two-bar melody that loops with some variation through the entire 67 minutes of the track. Piano and keyboards enter with faint chords. Slowly over the course of the first several minutes, the violin, cello, and flutes join the fray. The initial effect is a calm billowing of short melodies, drawn bows, and tentative keys. Inevitably, the discrete elements come together, though not to construct a singular melody. Instead, they gently collide, ricochet, and float within the ether of bells and vibes.
Performed by Apartment House — for good reason emerging as Another Timbre's go-to new music ensemble — Femenine is a beautiful study in repetition and organic evolution, serialism, and counterpoint. Julius Eastman was known for his open compositional style and coordinating this realization must have been a challenge. Apartment House rises to the challenge consummately. It takes little effort to hear the affinities with his contemporaries: Feldman (they overlapped at University of Buffalo), Steve Reich, and Christian Wolff. And, like the best of those composers, this album is utterly entrancing.
Over its course, the strings and keys weave around the steady melody of the vibes and the rhythm of the bells. The result is light and energetic. The imagery, bucolic. Just as the countryside can seem one homogenous mass at first glance, so can this piece. Just as that same countryside gains shades of color, texture, and other irregularities as one explores its paths, so does this piece gain color, texture, and irregularity as the listener becomes ensconced in its winding melodic dynamism. Dramatic gusts emerge through force and volume rather than tempo. The piano frequently sounds as if it is on the verge of breaking into a tempestuous front, but never quite breaks out of the cloud. The simple melody gains complexity and partially unravels into strands that wander and interweave in new ways. Were it sprightly and pastoral before, here melody becomes majestic. The piano becomes heavier and more discordant. The gaiety of the piece gives way to gravity. The dreamy pastoralism seems on the brink of breaking. And then, the energy subsides, rather than bursts. The piece slows, and the instruments fade from audibility one by one. The end is the beginning, the steady ringing of sleigh bells, until they disappear.
This piece has been compared to footage of a flower blooming and contracting. I hear that in its delicacy, but the piece also has dramatic undercurrents which evoke grander things. That said, maybe that is the key to "Femenine." It is grand because it exists and is beautiful. It is majestic because of its soft contours and sharp edges. It is powerful because it drifts and billows rather than aggressively barrels onwards. Either way, it is a moving, organically developing, and almost natural piece. And it gets deeper and more fascinating with each listen.
Comments and Feedback: