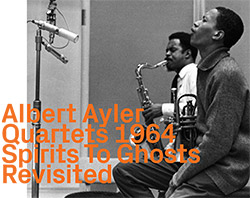 A welcome re-re-release of two of Ayler's finest studio recordings. These two records have checkered pasts, having been published under different titles, with different track running orders (and even a track title name change!), many different times. Here they have been re-mastered and brought together for close inspection.
The first four tracks I heard as a youngster, on an Arista/Freedom LP called Witches and Devils. I had been getting into jazz and bought the album on the strength of the photos of Ayler wielding his tenor. I was unprepared for the sounds contained therein, and couldn't listen to the whole thing. The braying horns and scrambling bass and drums seemed pretty frightening at the time, and what was that weird moaning? But I kept going back to it. Here, the remastering job brings out nuances of the rhythm section that were a bit buried on the original, a welcome change. I can't say I agree with the decision to change the running order, but that's a small quibble. For a band that was presumably a studio-only proposition, they sound remarkably of like mind. Both Ayler and trumpeter Norman Howard utilize an alarmingly wide vibrato during the slower tunes, and the bassists (Henry Grimes and /or Earle Henderson) and percussion (Sunny Murray) provide a constantly shifting bedrock.
The next six titles, recorded 7 months later, feature an actual working Ayler quartet, with Don Cherry, Gary Peacock and Murray. There is a slight but noticeable difference in the studio sound, and the rhythm players have been separated into their own channels — Murray on the left, Peacock on the right. Cherry's trumpet sounds brighter and a bit more nimble than Howard's, with a more pronounced tendency to jump register. Peacock also sounds quite a bit busier, and the remastering brings out the snap and tumble of his sound. When he occasionally solos (as on "Children") it's a revelation.
For someone just taking the plunge into Ayler's voluminous discography, things can be a bit daunting, as there are a great many re-issues and shufflings of content. I think this disc would be a good place to start, giving anyone a long look into a modus that became the standard by which much future music would be judged.
Comments and Feedback: