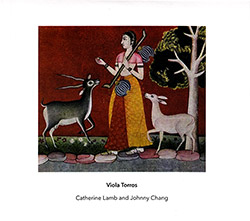 Catherine Lamb and Johnny Chang describe this double-album as a search for a mythic composer named Viola Torros. She existed, according to the composers, but when, where, and how seems either the stuff of legend or simple conjecture. Nevertheless, Lamb and Chang have endeavored to discover, per Lamb, "little openings into...perceptions that could have been hers." Chang refers to this process as an archaeological dig — a methodical search for insights into the past for the purpose of discovering hints of Viola Torros's hypothetical existence and actualizing these into "plausible creative outputs."
As one already may have gathered, Viola Torros is not simply a contemporary performance of ancient music. Instead, it is a progressive piecing-together of harmonic fragments, melodic whispers, tonal progressions, quavering and layered drones, faint choral hums, and polyphonic lyricism. This becomes immediately clear on the first disc, consisting of two "V.T. (Viola Torros) Augmentation(s)." These are long pieces (approximately 41 and 37 minutes respectively) arranged cooperatively by Chang and Lamb and performed by Chang and Lamb on violas, Bryan Eubanks on resonances (more on that below), and a small collection of vocalists. Driven by strings, these compositions are relatively heavy — especially considering their sparse configurations — and feature a series of gradual, effervescent, and often hazy melodies constantly struggling to realize themselves. This is music that blurs the divide between the back- and foreground as it questions and warps the boundaries between sounds of the past and the present, between the mythic and potentially factitious and the real. And it is transfixing.
The second disc comprises two, more delicate compositions, one by each composer. The first, Chang's "Citaric Melodies III," is a thirty-minute exploration of unison and overlapping resonance. It has clear drone-inspired elements particularly in its use of elongated tones. This nevertheless is not simple drone. The early sparsity of carefully articulated notes gradually gives way to an inobtrusive density of sound, as tones billow around each other in a way that suggests a slowed and stretched melody. Through this, the piece acquires a peculiar momentum. Tones get more compressed, if still patiently drawn out, over the course of the track. Silence comes to play a dynamic, pivoting role, rather than simply serving as a blank palette for sound.
The second track, Lamb's "Prisma Interius VI (for v.t.)," offers a different, though complementary meditation on pitch, resonance, sonority, and counterpoint. From the first notes, one notices that Lamb has allowed (or prescribed?) musicians to create their own melodies based around ascending and descending scales, marking an important contrast with "Citaric Melodies'" monotonal disposition. Lamb's piece also includes a "secondary rainbow synthesizer," an instrument designed by Catherine Lamb and Bryan Eubanks (who plays a prominent role contributing "resonances" to the compositions on the first disc) that, according to one description from the New York venue The Kitchen, "spectrally filters a live sound input of the outer atmosphere to the listening space within which the performance piece is situated." This instrument becomes particularly perceptible around the ten-minute mark, as the acoustic music subsides under a quiet storm of muted ambient sounds (wind, traffic, whooshing, rumbling, and voices). Among other things, this sets the mournful melodies of the violas and cello in a unique ambient space and grants additional fullness to this and the other deeply beautiful compositions on these discs.
Viola Torros is quiet music, and slow music. It is minimalist. It distinguishes itself, however, in its clarity of focus — albeit into a rather opaque legend — and its tendency to distort time through a careful assemblage of simple, wafting scraps of melody. The result is slightly disorienting and absolutely serene.
Comments and Feedback: