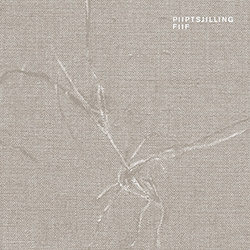 At this point, any recording sporting the work and/or contributions of composer/electronic musician Rutger Zuydervelt (aka Machinefabriek) is a nearly-automatic indicator of sonic craftsmanship and ingenuity. Across a huge and ever-growing catalog, Zuydervelt is a man of many talents, approaches, and aesthetics: he rarely makes the same record twice, and is equally comfortable trading in broad stroke ambient as he is in metastasizing noise. But much of his work plies an ongoing fascination with all aspects of minimalism, née the drone, navigating through a veritable elemental table of textures and sound design to realize subtly shifting, itinerant soundscapes where much is revealed though very little seems to be actually occurring.
Piiptsjilling members Jan Kleefstra, Mariska Baars, Romke Kleefstra, and Zuydervelt have taken what can ostensibly be called 'classical drone' and stood it on its ear. The instrumentation might be concise in meaning — voices, guitars, electronics, and various effects — but their original constitutions have been wrought unrecognizable, contextually unmoored. Made subservient to the whole, the seven individual pieces are part and parcel of a grand, glorious puzzle, the pastels of Dutch films blurred across perspectives at once gauzy, opaque, and indistinct. Personally, this writer isn't the biggest enthusiast of 'spoken word' recordings, but Fiif is one of the few such works where words spoken become merely another, and keenly-integrated, hue in the mix. Zuydervelt's guiding hand is unquestionably writ large over the entirety of the proceedings: his influence as both instrumentalist & de facto producer gives the album a bright if diffuse sheen equivalent to a smoky diamond. (Lawrence English's pitch-perfect mastering is nigh on critical to the recording's immersive heft as well.)
What arises is a panoply of eerily vibrating tones buffeted by odd whispers, pronunciations, and descriptors peppered throughout. Strings are plucked, knotted, tongue-tied; twists of dial and shaping of filters reveal melancholic layers of gnarled poise, occasionally rebuked by the odd spike of 'errant' noise. Zuydervelt works his audiomulch magic to the fullest, reveling in a mélange of mysterious, vivid flavors trembling with reverberative gestures and expansive outreach. His deft and nimble touches are nicely illustrated at the conclusion of "Winterrude", where the voices are atomized, pixelated, and scattershot across the aural terrain like so much tonal chattle, popping and transmogrifying as they form a glitched-out coda. Wondrous.
Comments and Feedback: