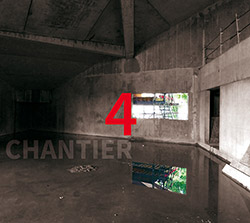 A sibilant hiss, resonant footsteps and metal clanging open this exploration of a building site's sonic components. Playing along with, commenting on, or ignoring the sounds of the work going on around them, Pascal Battus, Bertrand Gauguet and Éric La Casa launch sporadic additions into the large reverberant space. Sound moves from up-close to more distant and pans across the stereo field. A single saxophone pop hangs briefly in the air. An occasional engine intrudes, and voices are heard throughout.
Long sections of the recording are presented intact, but are abruptly edited at unexpected places — a display of the proceedings in large chunks. It is difficult, if not nearly impossible, to discern the "playing" from the general sound-field of construction, and while the builders' efforts will eventually result in a finished, usable space, the players' additions will mostly be forgotten except for these audio snapshots. There is a kind of rubbing of information against information here, maybe even a weird sort of imitation, though mockery seems far from these gentlemen's thoughts.
The accompanying notes, by Pascal Battus, reference Gordon Matta-Clark, who made a career out of removing pieces of buildings to re-imagine their spaces. The re-imagining here is sonic, a suggestion to hear this construction of a music venue as a performance itself. A quick perusal of the internet turns up short videos of the proceedings, which will dispel some of the mystery.
Comments and Feedback: