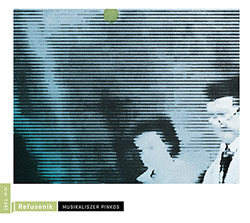 That the simply astounding Polish label Bolt has made nary a dent on these shores, let alone achieved some broader recognition amongst 'new music' enthusiasts, borders on the outright criminal. Since 2009, the label has been tirelessly documenting its naturalist musicians across a variety of styles and disciplines, encompassing postmodern classical and radioplays to electronic, experimental and the outright avant, a dizzying spectrum of operation whose outreach is nigh on supersonic. This writer discovered the treasures scattered across their formidable catalog around 2010 or so, and since then it's been a relentless and invigorating exploration attempting to come to grips with the vast array of artists and music spread over the label's beautifully designed and exhaustively researched releases. That Bolt's founders have maintained a certain relativistic fealty to their country's rich heritage of artists speaks volumes regarding the music's historical currency and cultural value — and the fact that the label continues to believe wholeheartedly on utilizing the CD as its preferred means of documentation is most loudly championed around these parts.
Which brings us to Russian composer and electronic musician Arturas Bumsteinas, who has chosen to operate under the nom de disque Refusenik for this expertly conceived and bracingly original project. Here, Bumsteinas has discretely sampled cantors chants sampled from scattered bootleg CDRs found in flea markets in his native Vilnius, subsequently interspersing their rich, resonant glottal utterances amidst the equally vintage analog vocabularies emitted by ancient Russian synthesizers. Bumsteinas's command of the hoary Soviet Polyvox unit is not only extraordinarily impressive but downright intuitive: the cavalcade of errant glitches, bassbin thrums, and moog-ish pricks and pulses seems somewhat incongruous placed against the incantatory vocals, but the resulting symphonies' very diversities are what provide this album with its unique patina.
What is the broader meaning behind Bumsteinas's modus operandi, however? Therein lies a question that begs asking. Is he indulging in a form of contemporary aural colonialism simply as a means to an end? Simply because the technology exists for him to do so? Doubtful. Bumsteinas has an obvious reverence for his subject matter, and the scrum of the electronics hardly acts as a dissipating agent; if anything, the sounds of the Polyvox more intensely focus the cantor's ancient epiphanies into sharp relief, where the past mingles with the present in stark, revealing brushstrokes. Whether or not such a work helps to illuminate the past or obfuscate it might well be a topic for debate, but there's no denying the respectful and, frankly, innovative artistic statement that Bumsteinas inaugurates on this remarkable release.
Comments and Feedback: