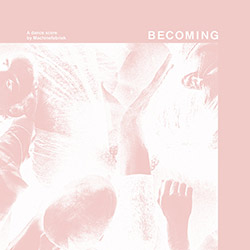 Becoming is a dance score by Rutger Zuydervelt (under his moniker Machinefabriek) for the choreographer Iván Pérez and presented here in both a studio version on CD and download of a live performance via code provided on an insert.
The piece is electronic, generally occupying a hazy, cloudy territory, though with rhythmic elements that befit a dance score. The CD version begins with a tonal, undulating electronic wash within which a hornlike tone carries a near-melody offset against deeper, more granular growls. Various pulses, not so overt, begin to circulate. Distorted arpeggios enter, conveying contradictory notions of pleasing melody and harsh texture. About halfway through, a wonderfully plaintive line enters amidst static and hum. It's distant enough that it's difficult to determine the source — a sample of a North African reed? A South Asian bowed instrument? Very mysterious but very beautiful, sometimes set against what sounds like an even more distant choir, all of it embedded in synth hums and beeps. These latter morph into more rhythmic patterns (one can easily imagine various choreographic options), one overlaying another, becoming quite dense and, soon, cacophonic, replete with feedback. The music calms down over its final few minutes, a voice (or voice-like tone) singing a wordless aria, a kind of lament in ringing scintillations, an alien song, icy and lovely, fading out in a soft, sandy whisper.
The live version runs a bit longer and, while using much of the same material, is generally somewhat more diffuse, with a lesser degree of rhythmicity, which has been replaced by very subtle pulses. That plaintive line recurs, entering earlier than before and being quickly subsumed into the vibrating mass, briefly emerging now and then throughout the piece. The clamorous section is muted, as if heard from an adjoining room — very effective. Despite being relatively more steady-state than the studio version, there's also more of an acidic presence here, a hint of a dystopian, industrial landscape, quietly seething in the dark. Toward the conclusion, a four-note line appears, iterated again and again while shifting timbre and tonal makeup, from grating to mellifluous. The lonely voice once again brings the piece to an end.
"Becoming' offers two versions of a fine work, easily enjoyed on its own apart from the connection to the dance, exploring fascinating variations in the notion of what might loosely be called "ambient music".
Comments and Feedback: