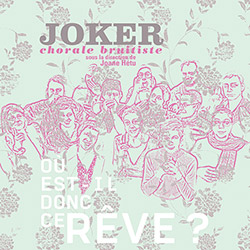 What is to be done when the bar for innovative choral music has been set so high? What's left when the voice has seemingly been rung dry, every facet of range and timbre used, abused and exploited? Somehow, despite fantastic odds, Joane Hetu has found solutions, presented in nearly an hour of what sits nicely, humorously and often disturbingly on the periphery of choral music history.
The language is French, that is when there is a language to be discerned. The spoken word sections clarify that much. As for the rest, no proverbial stone is left unturned, and, given the hour-long work's subject matter, this is as it should be. The notes speak of night, of dreams, somehow invoking the spontaneity inherent in the construction of both. The text is peppered with allusions to dreams, and the rapidity with which everything changes is certainly of the dream world. At times, it is as if the language we're hearing, even sound itself, has been transported to Twin Peaks, where all notion of forward and backward motion are subsumed and erased. Tonality and atonality are treated with similar polarization and unification; Hetu is unafraid of the triad, but it is merely a point of reference, some sort of historical burden to be shouldered and dropped post-haste. Rhythm, register, color, breath, time — all are her playthings, encountered and abandoned at will, only to resurface, like those wild arpeggiated 1950s ascending triads she'll insert, just when least expected. The whole history of 20th and 21st century choral music is here, from Holst's long-sustained sonorities to Messiaen's syllabic rhythms, from Ligeti's uninhibited and dark humor to Xenakis' crunchy dissonances that claw at the ear with high-register harmonics.
It is to Joker's credit that, ultimately, the music sounds like all and none of these historical precedents. Maybe it's just this mixture of performers and composers that allows the challenging score to be rendered with such success. They laugh, warble, exhale with sudden vengeance, sigh, croon and, yes, sing, with the conviction of an ensemble long nurtured, though this is its debut. The recording is nothing less than breathtaking, spacious and detailed, allowing each subgroup to be heard in the whole's context. This is a journey for the listener, undoubtedly akin to that of the composer and performers, and each listen brings new revelations.
Comments and Feedback: