November 30, 2023:

We have so much new material that's worth writing about that I'm uncertain where to start! So I'll start with much gratitude for the warm response our customers have shown us through our Blue Squid/Black Friday sale, and the associated Clean Feed sale, which kept us happily busy for the last several days. Setting up for that sale kept us apart from our typical cataloging process, which I finally returned to this week with a new Scott Amendola / Henry Kaiser / Michael Manring trio album on Fractal (which comes with a free CD of another Kaiser Trio). I also started the next round of purchasing, following the addition of a great collection of albums from Clean Feed & Shhpuma, Not Two, Concepts of Doing, and Discus.

An exceptional set of albums after a week off from announcing new releases! In particular, the new Ned Rothenberg Crossings Quartet is certain to make our top 10 list this year; as we add Portugal's Phonogram Unit albums into our catalog, the first release of the trio of Jose Lencastre/Hernani Faustino/Vasco Furtado shows why this young label is such an important connector to the vital Portuguese free improv scene; the second duo from Vasco Trilla and Mars Williams is a bittersweet album given the recent loss of Williams, but is a reminder of both player's excellent, playful percussion improv; the two new ezz-thetics by Hat Hut, Ltd includes the exceptional collection of "lost" Albert Ayler performances, particularly in Cecil Taylor's quartet with Jimmy Lyons and Sunny Murray (!); and the first 15 orders of the new Amendola/Kaiser/Manring CD on Fractal comes with a free copy of "Trouble with the Treble" by the trio of Agren/Colby/Kaiser!




---
In Memory of Mars:
When I read the news of saxophonist Mars Williams' passing I was surprised at the emphasis on his work with The Psychedelic Furs. Not to dismiss that achievement, or his work with the new wave band The Waitresses, but I only thought of Williams as a jazz player, and a really great one at that. A mainstay of the Chicago scene, his loss will be felt across the community, but recalled through the excellent discography and performance memories he leaves behind.
Mars Williams played at one of the shows Squidco presented back in 2013, with Paul Giallorenzo's group including Jeb Bishop, Anton Hatwich and Marc Riordan. Of the many shows we presented during that time, Mars' solo was one of the most memorable: enthusiastic and passionate, masterful, visually interesting as he muted the sax with his thigh and brought his playing to increasing heights.
Over the years we've carried his Ayler Xmas CDs, some of my favorite holiday records, and which will be in rotation this year in honor of this great saxophonist and the legacy he leaves behind.
Here are a few albums that he played on, currently in-stock in Squidco's catalog as I write this entry. RIP, Mars Williams, you made a lasting impression on me.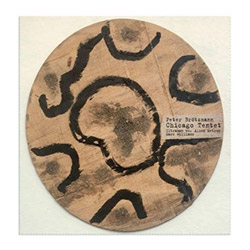 Brotzmann, Peter Chicago Tentet: Ultraman vs. Alien Metron [SINGLE SIDED VINYL] (Corbett vs. Dempsey)
Recorded during the 2002 studio sessions that yielded the albums A Short Visit to Nowhere and Broken English, this unreleased recording of a Mars Williams composition is issued as a 1-sided LP with the stellar lineup of BrŲtzmann with Williams, Ken Vandermark, Jeb Bishop, Fred Lonberg-Holm, Kent Kessler, Michael Zerang, Hamid Drake, Mats Gustafsson and Joe McPhee.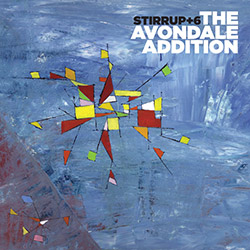 Stirrup + 6 (Lonberg-Holdm / Macri / Rumback): The Avondale Addition (Cuneiform)
The Stirrup trio of cellist Fred Lonberg-Holm, Nick Macri (bass), and Charles Rumback (drums) is merged with improvisers from Lonberg-Holm's Lightbox Orchestra project--Keefe Jackson & Mars Williams on reeds, guitarist Peter Maunu, violist Jen Clare Paulson, trumpeter Russ Johnson & Zoots Houston on electronics -for this compelling structured performance at Elastic Arts.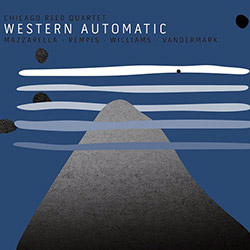 Chicago Reed Quartet (Mazzarella / Rempis / Williams / Vandermark): Western Automatic (Aerophonic)
Four generations of Chicago saxophonists--Dave Rempis, Ken Vandermark, Mars Williams, and Nick Mazzarella--come together in an interactive saxophone quartet with each player providing 2 compositions of well-developed, powerful, engaging free and lyrical jazz.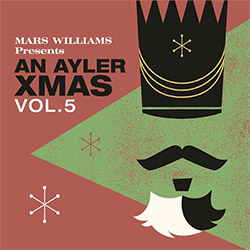 Williams, Mars Presents: An Ayler Xmas Vol.5 (Astral Spirits / Soul What Records)
This year's An Ayler Xmas is the 5th in the series from saxophonist Mars Williams, mashing holiday classics with works by saxophonist Albert Ayler, with the amazing sextet of Josh Berman on cornet, Jim Baker on piano, viola & Arp Synth, Brian Sandstrom on bass, guitar & trumpet, Steve Hunt on drums, Peter Maunu on violin and Kent Kessler or Krzysztof Pabian on bass.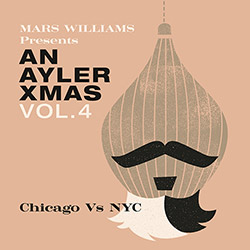 Williams, Mars Presents: An Ayler Xmas Vol. 4: Chicago vs. NYC [VINYL] (Astral Spirits / Soul What Records)
This year's An Ayler Xmas, the 4th in the series from saxophonist Mars Williams, expands to a double CD with recordings from two bands: Josh Berman, Jim Baker, Kent Kessler, Brian Sandstrom & Steve Hunt (Chicago); and Steve Swell, Hilliard Greene, Chris Corsano, Nels Cline & Fred Lonberg-Holm (NYC); in incredible free jazz mashups and bash-ups of Holiday favorites.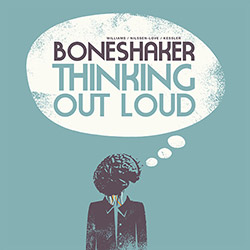 Boneshaker: Thinking Out Loud [VINYL-DAMAGED] (Trost Records)
The third album from this international trio of powerful improvisers--Norwegian drummer/percussionist Paal Nilssen-Love, Chicago bassist Kent Kessler, and Chicago/NY saxophonist Mars William-- in four odysseys that take the listener from introspective playing to out and out blowing, using technique to serve their incredible dialog.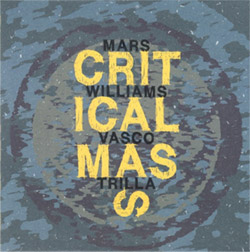 Williams, Mars / Vasco Trilla: Critical Mass (Not Two)
The second release from the duo of Spanish percussionist Vasco Trilla and Chicago reedist Mars Williams, the latter performing both on reeds and on toy instruments, both using extraordinary and extended technique to create both exotically energetic conversations and beautifully meditative environments, in five creative, playful and impressively informed dialogs.
---
Slippery Bones and Strings:
As I listened to the new duo album of Berlin double bassist Alexander Frangenheim and Baltimore-based trombonist Patrick Crossland, Basic Tracks Baltimore New York on Frangenheim's Concept of Doing album, I became curious about this particular duo configuration. Trombone and bass make as much sense as most duo meetings, in that unexpected and often wonderful results come from two players who must fill the spaces between them while communicating intently. It seems like a tightrope to me when a larger group provides more safety to each player, but in solo and duo configurations each player is very exposed and responsible for their voice. With Frangenheim and Crossland, in their second duo release since 2014, the level of expertise and great creative habits come through, making for a joyfully interesting album, more expressive and exciting than their first.
I searched our database for other combinations of trombone and bass, which while a curious combination, is also a very interesting orchestration, as the trombone so easily slides pitches in the same way that string instruments are able. It makes for a slippery potential that's punctuated with pointillistic string possibilities, and charged with brass timbre and the wonderfully idiosyncratic techniques each instrument can produce.
In the end I found only three other albums in our catalog of trombone & bass duos, and two of those are in albums of permutations of duos with other instrumentalists, but that include trombone & bass duos. This is, of course, only drawing on Squidco's catalog, and a quick internet search found other examples in both classical and improvisational settings. I still find it a more obscure duo configuration than many others, making these among the more unique acoustic improv settings in creative jazz.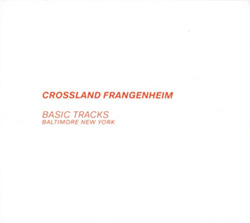 Crossland / Frangenheim: Basic Tracks Baltimore New York (Concepts of Doing)
Nearly a decade after their first duo collaboration, Ape Green on the Creative Sources label, Wuppertal-born and Berlin-based double bassist Alexander Frangenheim joins again with Baltimore-based trombonist Patrick Crossland for two live performances of wildly creative interaction: first at the 2022 Livewire 12 Festival, then at The Record Shop in Brooklyn.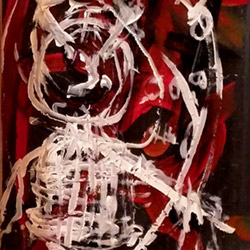 Polyorchard (David Menestres / Jeb Bishop): Ink [2 CDs] (Out & Gone Records)
A remarkable set of duos recorded live at three concerts during April 2019 in Bloomington IN, Nashville, TN and Columbus, OH, between Polyorchard leader, double bassist David Menestres, and trombonist Jeb Bishop, two free improvisers using extended and unusual approaches to their instruments as a means to fascinating dialog as they engage their listeners.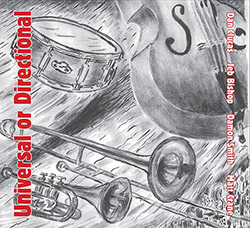 Clucas, Dan / Jeb Bishop / Damon Smith / Matt Crane: Universal or Directional (Balance Point Acoustics)
Three quartet improvisations and six duo combinations between Dan Clucas on cornet, Jeb Bishop on trombone, Damon Smith on double bass, and Matt Crane on drums, recording in the studio in Rhode Island, 2018, the various permutations of each player elucidating the full group interactions through focused and captivating investigations of instrumental combinations.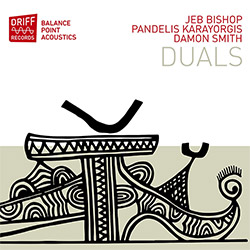 Bishop / Karayorgis / Smith: Duals [3 CDs] (Driff Records)
Three albums of three duos between three frequent Boston collaborators and improvisers -- Jeb Bishop on trombone, Pandelis Karayorgis on piano and Damon Smith on double bass -- each CD respectively a combination of trombone & bass, piano & bass and piano & trombone, each recorded during the last year of Jeb Bishop's residency in Boston between 2016-2022.
---
Squidco Publishing Roundup:
As always, I end with updates to Squidco and The Squid's Ear over the last week. You can see our latest fully cataloged albums in our Recently Section.

You can see new albums as they enter our Just In Stock Section, meaning that we physically have an album and are able to ship it with an order, but that we're not satisfied that we've added all the information we can about that release.

You can also see recent restocks of previously listed items at our Recently Restocked page.

You can ask us to inform you via email of any upcoming release that you're interested in, with no obligation.
November 30, 2023: New @ Squidco:
Paul Dunmalll (Dunmall/Kinch/Cole/Mwamba/Kane/Drake) -Bright Light A Joyous Celebration [CD] (Discus)
John Butcher/Pat Thomas/Dominic Lash/Steve Noble -Fathom [COLORED VINYL] (577 Records)
Grzegorz Tarwid Trio ( w/ Mucha/Karch) -Flowers [CD] (Clean Feed)
Calcanhar (Mortagua /Azevedo) -Jump [CD] (Clean Feed)
Crossland/Frangenheim -Basic Tracks Baltimore New York [CD] (Concepts of Doing)
Joelle Leandre/Vinicius Cajado -Storm Dance [CD] (Not Two)
Sergio Merce -Traslasierra (expanded landscape) [CD] (Hitorri)
Made Of Bones (Fonesca/Clemente/Dias/Sousa) -Handgun [CD] (Phonogram Unit)
Sheldon Suter -Berceuses & Nocturnes [CD] (Shhpuma)
Sheldon Suter -Berceuses & Nocturnes [VINYL] (Shhpuma)
November 30, 2023: New Review @ The Squid's Ear: Henry Kaiser - Mahalo Nui (Metalanguage) by Massimo Ricci.
November 28, 2023: New @ Squidco:
Ned Rothenberg (w/Courvoisier/Halvorson/Fujiwara) -Crossings Four [CD] (Clean Feed)
Jose Lencastre/Hernani Faustino/Vasco Furtado -Vento [CD] (Phonogram Unit)
Albert Ayler (incl. Milford Graves, Cecil Taylor, Jimmy Lyons, Sunny Murray, &c) -More Lost Performances, Revisited [CD] (ezz-thetics by Hat Hut Records Ltd)
Bill Evans (Evans, Hall, Peacock, Motian, Israels, Bunker) -Duos With Jim Hall & Trios '64 & '65, Revisited [2 CDs] (ezz-thetics by Hat Hut Records Ltd)
Scott Amendola/Henry Kaiser/Michael Manring -Haunted by Eternity [2 CDs] + Trouble with the Treble (Agren/Colby/Kaiser) (Fractal)
Mars Williams/Vasco Trilla -Critical Mass [CD] (Not Two)
Tony Oxley/Stefan Holker -The New World [CD] (Discus)
Armonicord (Querlier/Minor/Houari/Traindl) -Libres (Festival de Massy 26 Octobre 1975) [CD] (Fou Records)
Thanos Chrysakis/Chris Cundy/Peer Schlechta/Ove Volquartz -Archangel [CD] (Aural Terrains)
Catherine Lamb/Kristofer Svensson -Translucent Harmonies - two duos for violin and viola, performed by andPlay [CD] (Another Timbre)
November 28, 2023: New Review @ The Squid's Ear: Andrew Cyrille - Music Delivery/Percussion (Intakt Records) by Nick Ostrum.
November 22, 2023: New Review @ The Squid's Ear: Thanos Chrysakis / Chris Cundy / Peer Schlechta / Ove Volquartz - Archangel (Aural Terrains) by Massimo Ricci.
November 20, 2023: New Review @ The Squid's Ear: New York Art Quartet - Revisited (ezz-thetics by Hat Hut Records Ltd) by Paul Serralheiro.
November 17, 2023:

With Carl back from vacation we had a busy and exciting week activating the albums that arrived over the week he was away. That added up to 26 albums on ezz-thetics by Hat Hut, Ltd, Not Two, Concepts of Doing, Clean Feed, Shhpuma and Discus. That followed the activation of new releases from Creative Sources and Phonogram Unit, making this in particular a month of great Portuguese albums! I spent the rest of the week making a new purchase plan for the coming months, with the next few weeks distracted by holidays, sales and with plenty of new releases to feast on at the moment.

Next week is the US holiday of Thanksgiving, a moment to show gratitude to those around us. With many parts of the world in turmoil it's difficult to rise to this challenge, but surrounded by friends, family and music hopefully we can all find a way to influence the world in postive ways. To all of you reading this entry, and to those who are positively affected by the music we connect you to, both those who appreciate the music and those who create it, I am beyond thankful.




---
Focus on the Engineer: Joaquim Monte
While cataloging the new addition to our catalog from Portugal's Phonogram Unit album by Lencastre, Zingaro, Lai, Almeida & Sousa, Common Ground, I caught note of their reference to the stellar quality of the recording due to the work of recording & mixing engineer Joaquim Monte. A common name in many albums we sell, I searched our database to find 84 (!) active albums that he engineered from 124 that we have listed. Labels that have carried his impeccable recordings including Clean Feed, Ayler, Creative Source, Phonogram Unit, Shhpuma, and Tour de Bras.
Audio engineers are rarely celebrated unless they also perform, as with Jean-Marc Foussat's exceptional engineering and performing skills. Historically Rudy Van Gelder and his studio, influencing the Blue Note sound for countless albums is one of the most famous examples of prolific engineers with an amazing sense of sonic balance. In New York now I would highlight the work of Jim Clouse at Park West Studios, whose meticulous recordings are heard on Tzadik, Not Two, Leo Records, Relative Pitch, ESP, Clean Feed, Listen! Foundation (Fundacja Sluchaj!), Mahakala Music, Pi Recordings, RogueArt, Tao Forms, Silkheart, &c.
Returning to Joaquim Monte, here is a list of a few "Squidco Picks" that he recorded, his work bringing to life the most subtle and the energetic of improvised and experimental music.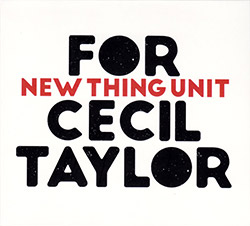 New Thing Unit: For Cecil Taylor (Creative Sources)
Dedicated to the late free jazz legend Cecil Taylor, this Lisbon sextet of Paulo Alexandre Jorge on tenor saxophone, Ernesto Rodrigues on viola, Eduardo Chagas on trombone, Manuel Guimaraes on piano, Miguel Mira on cello, and Pedro Santo on drums performs four energetic and well-balanced collective improvisations, respecting and evoking the incredible legacy Taylor left behind.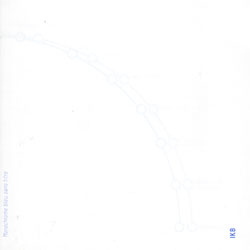 IKB: Monochrome Bleu Sans Titre (Creative Sources)
Referencing the work of French artist and composer Yves Klein, this large group of Creative Sources regulars perform the 4 part Monochrome Bleu Sans Titre, a subtle and rich work of acoustic and electronic improvisation.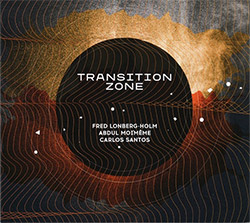 Lonberg-Holm / Moimeme / Santos: Transition Zone (Creative Sources)
With a history of collaboration in the Lisbon improvisation scene through bands including Variable Geometry Orchestra, IKB, Isotope Ensemble, &c., guitarist Abdul MoimÍme (performing on two guitars simultaneously) and electronics artist Carlos Santos join with Chicago cellist & electronic improviser Fred Lonberg-Holm for five elaborate alien soundscapes of impressive detail and skill.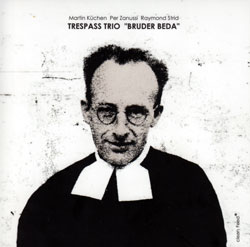 Trespass Trio: Bruder Beda (Clean Feed)
The 2nd Trespass Trio CD with Martin Kuchen (alto and baritone), Per Zanussi (bass) and Raymond Strid (drums and percussion), jazz music with a narrative drive from 3 powerful players.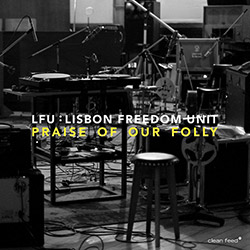 LFU (Lisbon Freedom Unit) : Praise Of Our Folly (Clean Feed)
Without a leader, this 9 piece collective ensemble includes members of Red Trio (Rodrigo Pinheiro, Hernaani Faustino and Gabriel Ferrandini), Garden (Jose Bruno Parrinha, Ricardo Jacinto, Luis Lopes), the duo Eitr (Pedro Sousa and Pedro Lopes), 2/3 of the Rodrigo Amado Motion Trio (Amado, Ferrandini) and half of the Luis Lopes Humanization 4tet (Lopes and Amado).
continued...