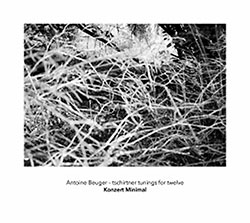 The title here refers to Austrian artist Oswald Tschirtner, who spent many years in psychiatric institutions making minimal drawings in calm silence. Part of Beuger's score (the first twenty pages) are here realized by Konzert Minimal, a twelve-member group of wind and string players. In the score only pitches, duration (long to very long) and dynamics (soft) are given.
What we have then is a series of long, quiet chords, composed of a wide variety of pitches and timbres that form tonal clouds, which arise and fall back into nothing. Occasionally one note will sound alone or hang in the air after the others have stopped. Sleeve notes recommend that the disc be played quietly, and if this advice is followed the music will blend in with whatever else is happening in your room, a slight tinting of the atmosphere, if you will. There are some interesting timbral things happening within the big chords, with some tones played sweetly and others buzzing or rasping, creating fleeting harmonics. I cannot detect any formal thematic movement here, though things move so slowly, with so much space in between tonal events, that it's hard to know for sure. One could use the word austere, but it doesn't really feel like that. More like an extremely considered way of placing collective sound in space, as though it mattered a great deal. I get the feeling of care taken, more than anything else. I've only heard a few of Beuger's pieces, but so far I like this one the most.
Incidentally, Oswald Tschirtner is also the namesake of another perhaps more well-known piece of music: Einsturzende Neubauten's Drawings Of Patient O.T.
Comments and Feedback: