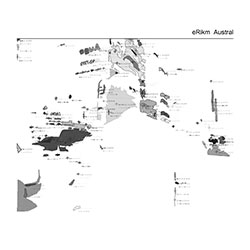 A DVD of an audio/video work whose subtitle translates to "Sound, Memory and Flesh". Composed by erstwhile media manipulator eRikm, here are 22 minutes of bewilderingly beautiful degenerated images accompanied by what at first listen could be a chamber orchestra reflected in sonic fun house mirrors.
The images were sourced from video of "landscapes and cityscapes collected during a trip through the Argentine and Chilean borders in 2000." These images have been processed quite heavily so that they are often a series of abstract shapes, which appear in muted colors and then fade into the background white as new shapes become superimposed on top. Some sequences are a bit more recognizable, as definite vehicle shapes move by and human outlines fade in and out, or the shadows of a forest fade in and then shift about as they fade. These tableau are sometimes accompanied by myriad symbols alongside tiny legends, an asemic chart with no key. Some may find it difficult to watch, but attention will be rewarded.
The music is played by a quintet composed of harp, clarinets, flutes, cello, percussion and CD players/electronics. It shifts from clearly recognizable acoustic instrumental sounds, to heavily manipulated versions of itself, oft times with both aspects layered together. It's a fun piece, serving up constantly shifting moods, textures and timbres. It points toward the possibilities extant to musicians and composers in the 21st century, while conjuring up memories of music past.
Comments and Feedback: