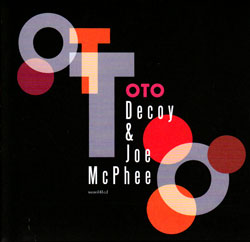 Recorded live at Café OTO in London, this session shows exactly why Joe McPhee is the free jazz legend that he is. Here he's collaborating with some younger musicians who give him the best kind of reception a guest could wish for. And in return McPhee makes their session rise up and soar.
Not that Decoy, a trio of obviously creative and inspired musician, relies on their guest to make the live session work. Far from it! They more than pull their own weight. Alexander Hawkins' Hammond B3 organ, in particular, comes across as a bottomless source of creative ideas and boundless energy, especially in the middle of track two, titled "Breakout," where he carries a big part of the load of the trio, as McPhee lays out for a good 5-6 minutes and the trio is on its own. In a passage of that same piece bassist John Edwards and drummer/percussionist Steve Noble are left to their own devices and do an excellent job of maintaining a propulsive thrust, as Hawkins lays out and McPhee adds a very understated line to the duo's evolving interactions.
"Opening Might," the very first of the three pieces, is the most interesting, inspiring and inspired of the night. It begins with a trio statement, with bubbling babblings from the organ, in a kind of sonic equivalent of the lava lamp, awash in cymbal splashes and drum rumblings and quickly articulated bass melodies, all of which evolves into a flying carpet kind of groove that McPhee's soprano leaps on and rides for most of the 39 minutes of the piece, until the smooth landing in the closing minutes that brings this most satisfying segment of the evening to its end.
The set ender, "Dancing on the Wolf Road," is almost as interesting. It finds all four musicians marvelously walking on the same tightrope of musical thought, in a kind of Latin-funky-Afro-free blowing mix that brings together all the best aspects of the other interactions on this disc, which can be characterized as energetic, eclectic and lyrical, all in one.
Comments and Feedback: