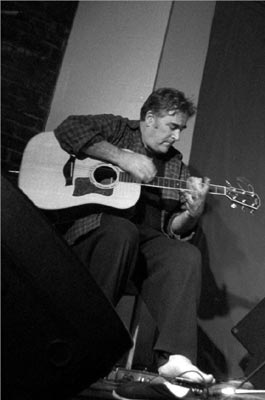 Fred Frith has been involved with the musicians in Montreal's Ambiances Magnetiques collective for some twenty years, and it was to launch a CD with AM founding member Jean Derome and drummer Pierre Tanguay that he came to Montreal once again in mid-December.
In addition to performing with Derome and Tanguay on Friday and Saturday night (the 13th and 14th), Frith met with the members of le Nouvel Ensemble Modern to explore the possibility of a collaboration at Victoriaville this May and did a workshop for McGill professor Eric Lewis's Project Improvisation. He managed to find time on a cold Monday morning for an interview over a pot of green tea in the dining area of a small bed-and-breakfast in the Plateau Mont-Royal neighborhood, the actual and spiritual home of Ambiances Magnetiques.
He didn't seem to hold the fact that I was a bit late for our appointment against me. Frith opened up quickly and laughed often and heartily during the conversation, which covered the collaboration with Derome and Tanguay, improvising and compositional practices, teaching, the nature of the artist, and Quebec cultural politics.
It was clear from the workshop that he gave at La Sala Rossa on Friday afternoon that Frith, who is in his fourth year at Oakland's Mills College, is very passionate about teaching. I asked how his teaching had informed his music.
"I think one thing that's been really useful for me at Mills is that I've been forced to think an awful lot about the kind of things we've been talking about," he said. "So I'm in the process of sorting out my ideas all the time. Students tend not to just take bullshit from you, so you can't just have a line and spin it, you have to actually be really, uh, thinking about issues like this on a pretty deep level on a daily basis. So it's definitely clarified certain ideas for me. I'm learning a lot from the process. Whether it's had a specific and direct impa ct on how I write music, I don't think I could really tell you at this point. I might be able to tell you looking back at it in five years. I'm writing a lot of music, and it's developing, and inevitably the context I'm living in must be having an effect on it, though I couldn't tell you what it is."
Frith was pleased with the concerts. The first, at La Sala Rossa, had been the actual launch of Frith, Derome, and Tanguay's album with sound engineer Myles Boisen, All is Bright, But It is Not Day(Ambiances Magnetiques 106). The trio performed with live mixing by engineer Bernard Grenon, replacing Boisen for the Montreal gig. The music was less layered and displayed fewer effects than the recording, sounding more exotic-Grenon's looped sample of Tanguay's thumb piano and Derome's soprano playing were a highlight-and less eerie than the album.
While Frith thought that Grenon, who started out mainly by employing delay and gradually added layers and texture by sampling what the musicians were playing, had been a bit too restrained, he did acknowledge the psychological difficulty of mixing in real time in front of a live audience. Saturday night's performance, with Frith on acoustic guitar, was more folk-oriented than that of the previous evening. Frith employed a lot of finger picking and blues modes, Tanguay explored the possibilities of the groove, and Derome dug all the way to the bottom of his bag of tricks-alto and soprano saxes, a trumpet fitted with a saxophone mouthpiece, various hand percussion instruments.
For Frith, it is of utmost importance to know what the musicians he plays with can do. "I don't write a part for a bassoon, I write a part for a bassoonist," he said. He holds Derome and Tanguay in the highest regard.
"One of the things that I really enjoy about working with Pierre is that he's got such a great groove-at any volume and in any style," he said. "You can take him pretty much anyw h ere you'd like to go, and he'll be there. That's something that he has in common with Joey Baron [the drummer with whom Frith played in John Zorn's seminal Naked City, among other projects]. They are so responsive and they have such big ears that you can really set anything up. I like that quality, and I like exploring groove with him. Get a groove happening, and you've got a monster."
Derome is a musician I admire for his wit. Frith talked about Derome's passion:
"The humor is an organic part of him, along with the passion," Frith said. "His playing is incredibly passionate. So he can produce this tension between intensity, which is really shamanistic at times, and this really kind of playful sides. I think those are two opposite sides of his personality, which are kind of fun. Because when he puts it down, it's really deep."
This trio works quite in line with what Frith describes as his "pathological dislike" for something that is finished.
"I'm obviously very interested in process," he said. "But what's more important than that, I think, is what the process signifies. What's interesting about process is being open to it. It's become almost a clich/ of mine to say that if you end up a process with what you thought you would have when you began, you've failed. That's actually true of just about any kind of creative work. What happens when you're working on it will necessarily have an impact on how you think about it, and it might lead you somewhere else than where you thought you were going.
"I was always fascinated by Francis Bacon saying he'd destroyed all his best work. What he meant by that was that when he has a particularly stunning piece of work, he always wants to go that one step further and make it the best thing he's ever done. And that would always spoil it," he added, laughing. "In other words, finishing something would always destroy it, as it were. And that always struc k m e as pretty interesting. I like things being unfinished, I like things being not definitive, I like things being dirty instead of clean, and that's part of who I am, I guess."
Which raises the question: "Have you ever done a psychological analysis as to why you feel that way?"
Frith explodes in laughter: "I'd better steer clear of that one!"
Less mysteriously, the question of Quebec's cultural politics is one that has interested Frith since he became involved with the Ambiances Magnetiques collective a quarter-century ago.
Saturday's performance took place at le Va-et-Vient, a bistro in the French working-class district of Saint-Henri, an area that is undergoing the same process of gentrification that the Plateau has experienced over the last twenty-five years.
"People were telling me that the crowd on Saturday night would be different," he said. "The unspoken subtext was that there wouldn't be many English-speaking people there."
The prediction was correct, as the ambiance was similar to what might have been found in the heady days of Quebec nationalism in the late 1970s, after the election of the first separatist Parti-Quebecois government in 1976.
The circumstances surrounding the workshop and the Friday night concert gave Frith cause to consider the French-English situation in Montreal. As an outsider who has been involved more or less exclusively with francophone musicians in Montreal over the years, Frith provides an antidote to the views of those, such as myself, who might tend to view French-English relations in the Montreal creative music community a little less problematically.
"My impression of the Casa [the parent club of La Sala Rossa, which has become the crucible for an incredibly productive improvised music scene in Montreal since it opened in the summer of 2000] is that it is more or less an anglophone kind of a place," Frith said. " The fact that Jean and Pierre weren't mentioned at all in the advertising for the gig-it was only my name with guests-told me something about the politics. It could have been just incompetence, which is fine.
"Nevertheless, there's also the question of perception, and I think if you talked to francophone musicians about how hip the Casa del Popolo is, you might get a different reaction than from the others. On the other hand, the possibility for something bigger than both building out of it is definitely there, and that could be very interesting. Nevertheless, it's hard for me to avoid thinking about cultural/political issues in a situation like that. I mean, Eric Lewis stopped to tell me about Malcolm Goldstein and how important it would be if he could get McGill to recognize Malcolm Goldstein [Texas-born, Montreal resident improvising violinist, composer, and theoretician] as somebody who's important in improvised music. What he says about Goldstein is all true, but I didn't hear the same kind of talk about, say, Jean Derome, who has also written things about improvised music and has been a pioneer in the form for a long time, etc., etc. So there's definitely a cultural divide here. As an outsider, that's sometimes a little strange.
"But for such a long time, Ambiances Magnetiques were out on a limb, and it obviously also had very much to do with French identity. I think that's in flux now. But for some francophones, there's a certain nostalgia for the time when, you know, people were defending their culture, as it were."
The good news is that despite certain misgivings of Frith's regarding the anglocentricity of the Project Improvisation workshop, he, Derome, and Tanguay did give two exhilarating performances, and his meeting with le Nouvel Ensemble Modern, which took place the day after our interview, apparently went well enough that they and Frith will be presenting a work at Victoriaville this May. Frith's root s wit h Quebecois musicians runs deep: the so-called "Patron Saint of Victoriaville" will also be performing with Rene Lussier's Tombola Rasa orchestra at Victo this year.
See Len 37 Siegfried's Fred Frith picks.