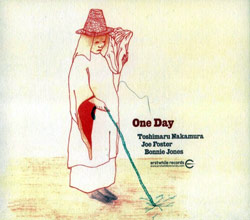 One of the many intriguing puzzles borne of post-AMM abstract improvisation is the destruction of relative volume. Listening to a recording of a piano or a cello carries with it the knowledge of that instrument's natural amplitude. Electric guitars generally convey a feeling (if not by the same necessity as acoustic instruments) of the volume at which they were played. But the new electro-acoustic improv rarely conveys signals on record of its loudness.
The pairing of Toshimaru Nakamura with the duo English further obscures notions of volume. Nakamura's playing is often very quiet, and his instrument - a mixing board cycling on itself to put out the natural, internal noise of the device - almost personifies silence: a tool that is not supposed to make noise by itself, and isn't intended to be heard without input amplification. English employ instruments that suggest loudness, although they can be quiet as well. Joe Foster plays trumpet, the most piercing of the brass family, and electronics; Bonnie Jones uses electronic effects and a microphone, a device which has the sole intended use of making things louder than they actually are.
The three played together for the first time at a 2007 concert in Tokyo, and the following day went into the studio. How loudly they played those days is a mystery to anyone who wasn't there, but something about the studio recording One Day begs for volume. The three tracks (close to an hour in total) feel quite natural and are at the same time fairly intense. it's a busy record. Floating beds of tone and hum are almost incessantly interrupted by a surprising and unpredictable array of sounds, a fast succession of scratches, static and anonymous blurts. Unlike many recordings in the field, it comes off as distinctly linear, and moves quickly across its timescape. Nakamura's records are often atmospheric. There's lots of detail in his work, but they tend to push the listener toward quiet contemplation. If ordinarily he's hang-gliding, however, here he, Foster and Jones are just trying to keep balance - in a submarine.
Comments and Feedback: