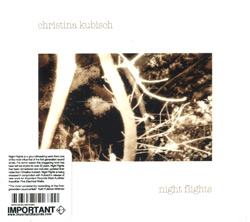 There is a photo in the accompanying booklet for Night Flights that shows the artist-in-residence in her Milan studio, circa 1986. Grainy, hazy and indistinct, shot through a vaseline-smeared lens, the image, surreal and mysterious, chroma-captures the ideal visual analog to the music constructed therein. Recorded in Milan between 1983 and 1986, a city Christina Kubisch describes in the liner notes as being a "vivid and experimental place," Night Flights, edited together from field recordings, performances, flutes, and a phantasia of sounds extracted from various synthesizers of the time, epitomizes to the highest degree that elusive term "sound art."
Of course, Kubisch is not alone. European sonic experimentalists were rampant in the early 80s, although the tendency was to cling to established models that were already fast becoming cliché (graying Krautrock) or getting weathered about the edges (post-modern facile classicism). Few beyond the elitists at France's INA-GRM or gents such as Stockhausen or Xenakis were making any dents in the armament, and too often their musics little ignited the less-imaginatively inclined populace. Kubisch herself was operating on the margins, surrounded by a small coterie of associates, but as under-appreciated as her early work was, in retrospect its innovative aspects have now ensured it a place in electroacoustic history.
The first of three lengthy works, "The Cat's Dream" plays like a Philip K. Dick metanovel actualized through sound. Kubisch coaxes softly purring tones from her oscillators and synth filters, letting them coalesce below a teeming assortment of snatched noises: boots marching on gravel, partygoers cackling, the sound of sputtering hydraulics, massed chatter, the caterwaul of compressed ram's horns. It's an utterly hallucinatory experience that becomes more involving with further spins. The closing "Circles III" was apparently written solely for flute, delay and voice, although the shifting winds and burbling synthetics, reminiscent of Louis and Bebe Barron's Forbidden Planet soundtrack, suggest otherwise. Speculative, otherworldly, and arresting in equal measure, the piece as a whole, much like the entirety of Night Flights, remains a conceptual benchmark for all wayward soundscapists contemplating their own future variations.
Comments and Feedback: