It must be hard to be a year. You have to come up with ten great movies, ten great records, ten great books - anymore than that and you're just spinning your wheels. History is written in decasets, or - with sufficient hindsight - in groups of 100.
Problem is, of course, there are good years and there are bad years. So rather than asking our writers to scrap for or limit themselves to ten, we gave them the sky as the limit for their end-of-the-year wrap-ups: a more democratic process, we feel. Those who had a better listening year get more votes because they want them, a vague sort of proportional representation.
A common complaint among avid listeners about the digital age is that there are just too many records these days. There have always been talented people, of course, but we fanatics have never been so saddled with knowing about them. Perhaps that's why only five records were named more than once, and perhaps this is how we might name the best records of 2003. And if anything can be gleaned from that half-a-ten, perhaps it's that we had a fairly melancholy year.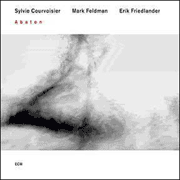 Sylvie Courvoisier - Abaton (ECM)The two surprises on Sylvie Courvoisier's two cd set are almost the same. The pianist proves herself to be a fine composer, and her trio with violinist Mark Feldman and cellist Erik Friedlander make a strong enough improvising unit that they nearly emulate the composer's voice even when playing without charts. The first disc contains four striking compositions and the second, recorded immediately after the first, captures three of New York's strongest improvisors in duo and trio settings. Abaton is a remarkable achievement, one that might bring the talented Courvoisier to many more ears.
Peter Kowald/William Parker - The Victoriaville Tapes (Victo) - Death, of course, brings immortality to the greats, and the German bassist Peter Kowald was no doubt one of the greats. He died in 2002 at the home of his longtime friend and fellow bassist William Parker, and this set from that year's Victoriaville Festival captured the two in a beautiful duet.


The Necks - Drive By (Fish of Milk) - The Australian piano trio The Necks are no doubt the least known of our Fab Four, which is a shame because they're as enjoyable as they are accessible. Landing somewhere between Miles Davis' In a Silent Way and Bernard Herrmann's film soundtracks, their music is slow, dramatic and engaging. Here they add Hammond organ to the piano/bass/drum line-up to a softly psychedelic effect.
Keith Rowe/John Tilbury - Duos for Doris (Erstwhile) - Two-thirds of slowsound forebearers AMM met in January, 2003, in Vandoeuvre-les-Nancy, France, for a session that almost didn't happen but turned out to be one of Erstwhile's biggest sellers. The mood of the musicians was no doubt hampered by the fact that Tilbury's mother died at age 95 three days before the recording was to take place. The two-cd set is a worthy addition to AMM's nearly 40 years of exploring.
John Zorn - Masada Guitars (Tzadik) - A strange criticism surrounds the proliferous John Zorn. While he cut his first working band, Naked City, too short, his second long-term project has gone on too long. Plenty of cds have been released under the Masada name, and the plethora has pushed away some old-school fans. From the core quartet, with Joey Baron, Greg Cohen and Dave Douglas, to the string trio, chamber groups, and "cover" albums, the Masada songbook has become lovingly dogeared. Those who jumped ship somewhere around the fourth DIW record or the fifth live album, though, would be advised to return to the fold for this solo guitar recital. The well familiar pieces are given new breath by Bill Frisell, Marc Ribot and Tim Sparks and the album, from beginning to end, is a work of beauty.
That said, here's the list, alphabetically and with apologies to believers in the decimal system.
Abdullah Ibrahim - African Magic (enja)
Absolute Zero - Crashing Icons (Recommended Records)
Adam Lane - Fo(u)r Being(s) (CIMP)
Ahmad Jamal - In Search Of: Momentum (1–10) (Birdology/Dreyfus)
Albert Ayler - The Copenhagen Tapes (Ayler)
Andrew Drury - A Momentary Lapse (Innova)
Anthony Braxton - Four Compositions (GTM) 2000 (Delmark)
Art Ensemble of Chicago - Tribute to Lester (ECM)
Bob Drake - 13 Songs and a Thing (Crumbling Tones/Recommended Records)
Carla Kihlstedt - 2 Foot Yard (Tzadik)
Charles Hayward - Abracadabra Information (Locus Solus)
Christian Fennesz – Live in Japan (Headz)
Cooper Moore and Assif Tsahar – America (Hopscotch)
Dave Douglas- Freak In (Bluebird)
David Budbill/ William Parker/ Hamid Drake- Songs for a Suffering World (Boxholder)
David Sylvian - Blemish (Samadhi Sound)
Dingobats - Pöck (Bergland Productions)
DJ Wally - nothing stays the same (Thirsty Ear)
Elliot Sharp - Velocity of Hue (Emanem)
Evan Parker and Joe McPhee - Chicago Tenor Duets (Okkadisk)
Fred Anderson – Back at the Velvet Lounge (Delmark)
Fred Frith - Keep the Dog: That House We Lived In (Recommended Records)
Fredi Luescher, Cécile Olshausen, Nathanael Su, Dear C. – The Music of Carla Bley (Altrisuoni)
Geof Bradfield - Rule of Three (Liberated Zone)
Giorgio Pacorig - My Mind Is on the Table (Splasc(h))
Globe Unity Orchestra 2002 (Intakt)
Gordon Beck - Gyroscope (Art of Life)
Grand Mal - Perfect Fit (Unsounds)
Gunther Muller - Eight Landscapes (For 4 Ears)
Hiroaki Katayama - Quatre (Studio Wee)
Hoahio - Peek-Ara-Boo (Tzadik)
John Butcher - Invisible Ear (Fringes)
John Fahey - Red Cross (Revenant)
John Lindberg- Ruminations upon Ives and Gottschalk (between the lines)
John Surman - Free and Equal (ECM)
John Wall – Hylic (Utterpsalm)
John Zorn - Masada Guitars (Tzadik)
Jon Rose - The People's Music (Recommended Records)
Jon Rose and Hollis Taylor - Great Fences of Australia (Dynamo House)
Josh Abrams - Cipher (Delmark)
Josh Abrams Quartet - Ciper (Delmark)
Julien Ottavi – Nervure Magnetique (Sigma Editions)
Julius Hemphill - One Atmosphere (Tzadik)
Keith Rowe – 29 October 2001 (Sound)
Keith Rowe/John Tilbury - Duos for Doris (Erstwhile)
Kevin Norton/Joelle Leandre/Tomas Ulrich - Ocean of Earth (Barking Hoop)
Larry Coryell - The Power Trio: Live in Chicago (HighNote)
Le Quan Ninh - Le Ventre Negatif (Meniscus)
Limescale - Limescale (Incus)
Lisbon Improvisation Players - live_lx meskla (Clean Feed)
Lutz Glandien - Lost Rooms (Recommended Records)
Markus Eichenberger - Domino Concept for Orchestra (Emanem)
Martin Siewert/Martin Brandlmayr – Too Beautiful to Burn (Erstwhile)
Marty Ehrlich - Line on Love (Palmetto)
Morton Feldman – Early Piano Works (Stefan Schliermacher)
Oren Ambarchi/Gunther Muller/Philip Samartzis -Strange Love (For 4 Ears 1448)
Paul Rogers - Listen (Emanem)
Peter Brötzmann - More Nipples (Atavistic UMS)
Peter Kowald/William Parker - The Victoriaville Tapes (Victo)
Phil Minton and Roger Turner - drainage (Emanem)
Philip Samartzis – Mort Aux Vaches (Staalplaat)
Rahsaan Roland Kirk - Compliments of the Mysterious Phantom (Hyena)
Repeat – Pool (Cut)
Rhodri Davies - Trem (Confront)
Robert Marcel Lapage - La machine ŕ exploRecommended Records le tempo (Ambiances Magnetiques)
Sachiko M/Sean Meehan – [untitled] (upsidedownbowl)
Satoko Fujii and Tatsuya Yoshida- Toh-Kichi (Victo)
Sleepytime Gorilla Museum - Live (Sickroom)
Spring Heel Jack - Live (Thirsty Ear)
Staffan William-Olsson - Pop! (Real Records)
Supersilent- 6 (Rune Grammofon)   
Sylvie Courvoisier/Mark Feldman/Erik Friedlander- Abaton (ECM)
The Necks - Drive By (Fish of Milk)
The Vandermark 5 - Airports for Light (Atavistic)
Tim Berne's Science Friction - The Sublime and. (Thirsty Ear)
Trio-X - Journey (CIMP)
Vijay Iyer - Blood Sutra (Artists House)
Vijay Iyer & Mike Ladd- In What Language? (Pi)
VRIL [Bob Drake, Lukas Simonis, Chris Cutler] (Recommended Records)
Whit Dickey - Prophet Moon (Riti)
William Parker Trio - Scrapbook (Thirsty Ear)
William Parker/Joe Morris/Hamid Drake - Eloping with the Sun (riti)
The Nominating Committee: Nate Dorward, Kurt Gottschalk, Eyal Hareuveni, Andrey Henkin, Brian Olewnick, Phil Zampino