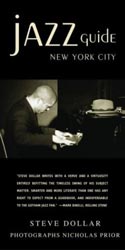 Steve Dollar is asking for it. Compiling a Let's Go-style compendium of places to hear live jazz in New York City is the kind of task which will leave you as dogged by people combing for mistakes and omissions as it will thankful tourists looking to find what lies beyond The Blue Note and The Village Vanguard. Surely as soon as you've written one thing down, something else will have changed, a downtown gallery will suddenly crop up with an interesting series of programs or some old reliable will give in to the pressure of catering to beer-swigging rockers.
Fact is, however, Dollar has done an admirable job in mapping the city, and the omissions are more than outweighed by his thorough reporting and easy prose. The little black book rounds up nearly 100 Manhattan venues and tracks down a handful in Brooklyn and Queens as well. No doubt he missed something in the Bronx and Staten Island - if only the occasional perfomance at The Bronx Museum of the Arts or the Snug Harbor Cultural Center - but for tourists trekking the usual routes or newbies interested in more context than Time Out has to offer, it's an excellent resource.
Dollar approached the project as more than a reference book. His writing is natural and entertaining, and he peppers the listings with bits of New York jazz lore. He provides a peek into where bassists go for strings, relates the story of Sonny Rollins on the Williamsburg Bridge and waxes briefly about subway musicians. He also gives some undeserved praise to the sound system at Iridium, strangely claims that "you won't find a more enjoyable place to see - and hear - live music" than Joe's Pub, and corrects the German grammar for the Neues Kabarett concert series at the Brecht Forum. (I was a cofounder of that series, but no hard feelings.) He dishes some attitude ("Intrusive waitrons, ill-mannered diners smacking and slurping, the piercing jangle of cutlery - everything exists to distract you from the performers, who might as well return to their long-forsaken Holiday Inn gig," he writes, without pointing fingers, of the ever-present dinner club), but what Dollar achieved is no small feat; he went to dozens of dark rooms with a saxophonist on one side and a bar on the other and found what made each distinct. It's a valuable little handbook, even though it will be out of date before Cab Calloway's 100th birthday.
Comments and Feedback: