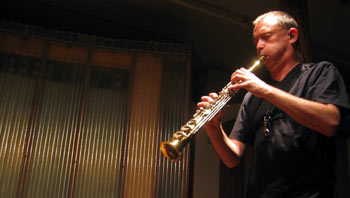 [Photo: Kurt Gottschalk]

Music is identifiable, of course, by the styles of the people who play it. But their tools, the instruments they play, are often just as important in defining their styles and the genres. After all, what is more synonymous to rock music than the electric guitar? And what about jazz and the saxophone? Or the violin and classical music?

Throughout history, new instruments have always been devised, some falling by the wayside while others stand the test of time. New techniques are introduced, only to be assimilated into standard playing practices. And bodies of literature (both oral and written) are created that give form to new genres. As a result, technical mastery comes to be defined by a set of rules derived from old and new traditions and the acoustic properties of individual instruments. Wind instruments have been understood to play monophonic lines in a well tempered fashion, and any sound that doesn't fit into those parameters is viewed either as a technical miscue on the player's part or, worse, a sign of lacking skills.

While emphasis is still put on playing in a "legit" way, much has been done to stretch customary boundaries, and nowhere is that more apparent than in the realm of improvised music. Most musics are still readily identified through their instrumentations and specific timbral combinations (particularly scales and chordal sequences), contemporary "free music" is much harder to pin down. It cannot be typified by any one instrument and it does not rely on any characteristic pitch materials. Potentially, one could say that anything goes, but this notion is tempered by a performer's abilities and preferences. Like any other idiom, improvised music has its share of masters, plenty of wanabees and more than a handful of posers, though the problem of knowing who's who isn't always so clear.

Delving into the recordings of a given artist certainly offers some guidance. Records offer a kind of sonic snapshot, limited in time yet very complete in their way of seizing every gesture. As a case in point, the recently issued disc entitled Optic (on Emanen) constitutes a fine introduction to the musical world of British saxophonist John Butcher. From a North American vantage point, the tenor and soprano player has been gaining increased exposure over the last decade with his distinctive approach to improvised music.

Those familiar with his playing have long put to rest superficial comparison with Evan Parker, long upheld because of the fact they happen to play the same two instruments. Next to Parker's Appolonian approach, Butcher could be considered as more Dionysian, less prone to playing in overdrive (which he can do when circumstances push him to do so) than exploring the sonic minutiae of his chosen horns.

The whole range of his playing can be heard in this recording (the title of which refers to the small measuring cup put on top of liquor bottles in bars). Two live performances are spread over the 59-minute side, the first one from a Brussels club in January 2001 and yielding a single 27 minute piece (entitled, appropriately, "Cocktail Bar"), the second taking place in Barcelona a year and a half later and divided into four mid-length tracks. On both occasions, the reedman shares the stage with bassist John Edwards, a younger player who has now achieved a solid foothold in today's rather buoyant British improvising music scene. Their musical relationship is an on-again, off-again one, at times is augmented to a trio with the addition of drummer Fabrizio Spera. In both pieces, the saxophonist deploys a wide range of techniques; for close to half of the first track, the duo engages in a more classic free improvising game plan, quite discursive in its way of tossing out ideas and batting them back and forth. By the second half, both musicians change gears and focus more on exploring specific timbres and sonic nuances with some unexpected extra-musical occurrences, like the ringing of a cell phone in a particularly hushed moment. Asked whether that incident had any bearing on the performance, the saxophonist offered the following observations:

"The audience were on the edge of their seats - but there was certainly extraneous noise around. None of these were distracting, but part of the ingredients. A bit after the 14-minute mark you'll hear a door quietly squeak, which changes the course of the music. We also gave the "Dance of the Sugar Plum Fairy" its required space on the mobile."

Indeed, a cell phone ringing to that well known melody has a definite effect on the music and it is from there that a shift occurs. The Barcelona set, for its part, is also very sonic in nature, and the saxophonist focuses more on a range of extended techniques including flutter and slap tonguing, false fingerings, pitchless blowing and various clickings of the keys.

While his whole playing concept is not subserviant to any of the standard practices, it is by no means gratuitous. It lies certainly beyond the capabilities of an amateur noodling around on a horn. Quite to the contrary, for in the liner notes of that disc (penned by British pianist Steve Beresford), Butcher is quoted as saying "half a lifetime's been spent in tiny rooms trying to control these things for when the time comes to play a concert." His comment raises the whole issue of practicing and its relevance for an improvising musician, something which is of definite importance to him.

"I like to practice: you're trying to get all these things out of a piece of wood vibrating in your mouth and it's a process that needs attention. But, in terms of content, it has little to do with performance. I like to feel prepared for what might happen in a concert - but without making any plans about what to play specifically. It's a physical and mental preparation."

Central to his art are his chosen instruments, which he only came to in the '70s after having played piano, "though mostly classical." His interest in improvised music was developing concurrently with one of his earliest and most enduring musical associations, with pianist Chris Burn.

"At first, Chris Burn and I rehearsed privately," Butcher said in an email interview. "He'd work directly on the piano strings, and I began finding more ways to work with color. Then we started [the group] Ensemble back in the days when we had strong feelings about what was and what was not working. We felt that large group improvising was nearly always a disaster. Everything always ended up sounding the same: Things followed very cliched patterns of dynamics and relationships. So we tried to find a different way of interacting in a large group. In fact, 90 percent of that was choosing the right musicians to play with, those who were more interested in listening than soloing. In earlier days, it had about twenty people, but got whittled down to eight. We developed a way of playing that is very interactive but very maneuverable. It could make those changes on a sixpence that small groups can. I like that sense that at any time any one musician can change the structure of the music, not by coming in and playing some really powerful statement, but more by giving a little touch of something that would be just enough to make it go a different way. The structures we conceived for that group have mainly been orchestral, like who plays when. As for myself I like setting up structures for people whose playing I know."

Considering the economic realities of our time, working on a regular basis with a medium or large ensemble is a luxury, especially in Great Britain where support for arts has never been the best, particularly when it involves something on the creative fringes. In spite of it all, Ensemble has managed to play repeatedly, mostly on the continent and once in North America during the 1998 Victoriaville Festival. Like the bulk of musicians working in his field, Butcher works predominantly in small group or solo concert settings, which in itself make up for an interesting question as to his perceptions of playing alone and with others.

"A lot of great solo ideas are the kiss of death to group improvisation," Butcher said. "In a group, you have to step back enough for other people's ideas to make sense, but too much and nothing happens. I'm not interested in placing a static 'me' in different settings; I want each group to stimulate (out of necessity) responses, or ideas that I haven't had before. Of course, this only ever happens up to a point - but having this kind of aim affects the playing."

Also affecting his approach are his ways of using his two instruments. Quite unlike many tenor saxophonists, who pretty well from Coltrane onwards saw the soprano as a mere range extender, Butcher elicits other considerations.

"A tenor note has more information than a soprano note in terms of overtone structure," he said. There are so many color shadings available. So I can 'sculpt' the sounds more, manipulate blocks of sound, move outwards from - or explore inside - a particular sonic area. This might be mimicked on soprano by playing very quickly, so separate sounds appear to be almost simultaneous. The soprano is naturally more agile, but once you recognize traits you have the option of going with or against them. What is 'natural' on an instrument may not be the most musical thing for the situations you play in as an improviser. I also use the tenor to work with fast, short material that has some of the transparency of the soprano, or I might force the soprano into static material where you just adjust nuance. I've said before that it's important for me to try to forget that my instruments are saxophones - in the sense of trying to first hear the musical solutions I want and then find how to implement them."

Beyond his hardware, there is the added consideration of his "software," namely the plastic-coated reeds he has been using for years. And according to Beresford's notes once again, Butcher "throws even more reeds away unplayed than most saxophonists because he needs them to do things most players don't." In essence, his overall instrumental concept is very much informed by his closest musical associates, none of which are reedman but string players, most notably guitarist John Russell and violonist/live electronics player Phil Durrant.

"My early work with Chris then continued with Russell and Durrant," Butcher said. "With bow pressure and attack, for instance, a violinist can produce fantastic timbral variations, and I tried to do this with the saxophone. So it was the act of playing with these string players that led me to a lot of discoveries, rather than just doing 'research' by myself. I also tried to find ways to make sounds overlap, to get away from the on/off nature of a saxophone note. These approaches led to new ways, for us, of building group music - and then it seemed possible to bring back some more conventional elements. I certainly did this in solo playing, and my first solo cd Thirteen Friendly Numbers has plenty of melody on it."

Historically then, these encounters opened new avenues to him, albeit through a circuitous route. Up until the early '80s, music was basically a sideline for him, and in the middle of the previous decade he was part of a group influenced by the figurehead progressive bands of the time (Henry Cow, Soft Machine and some Zappa thrown in for good measure.) From 1977 to 1982, he pursued graduate studies in physics in London where he would obtain his doctorate. But it was not too long after that he chose music as his true vocation. Firmly committed to the cause of improvised music, he would nevertheless develop a style that would owe less and less to a more 'traditional' concept of saxophone playing.

"The motivations I had 25 years ago were formed in a situation that doesn't exist anymore," he said. "The evolution of jazz had ended with a fragmentation. Some fragments fed into new approaches to improvisation, but there were a lot of other ingredients in the pot. Ways of playing develop out of the needs of the time, and "the tradition of the saxophone" was a stimulus (both negative and positive) to try to find something right for my own situation. Being aware of the past lets you know what you're ignoring and what you're embracing, but it doesn't make much sense to pretend to the spirit of too distant times and places. Improvisation needs an attitude that doesn't sit comfortably with historical reconstruction. In the late '70s, I needed to unload a lot of baggage and, for a time, sought sounds with little obvious pitch base; I started to emphasize space between sounds and avoided playing lines; from that, I juxtaposed very different material (having been influenced by early tape music) while avoiding soloistic playing."

In the ensuing twenty years, John Butcher has quietly but effectively carved out his own niche, and as a 'second generation' British free improviser has been fortunate enough to play with the a couple of its founding figures, most notably John Stevens (who gave him a chance to play in his Spontaneous Music Ensemble of the early '90s) and Derek Bailey, with whom he shares the conviction of looking for a vocabulary that's endlessly variable.

From his native country, the saxophonist has been traveling to the continent on a regular basis for more than a decade now, most notably to France (for the Vandœuvre Festival) and Austria where he has been an integral part of the quartet Polwechsel. More recently, his growing notoriety has attracted some attention in North America and thanks to such hot spots as Chicago and Vancouver he has been crossing the Big Pond on a steady basis over the last five or six years. In so doing, he has forged many new collaborations on this continent, most notably with drummer Gino Robair in San Francisco, percussionist Michael Zerang and cellist Fred Lomberg-Holm in Chicago, Vancouver drummer Dylan van der Schyff and another trapman for whom he has high praise, Gerry Hemingway. Now well in the loop of the international improvising community, Butcher can count on a wide range of people to bring him to places both near and far, both for performances and recording projects. Of his recent or upcoming activities, he speaks of a new solo release on the Fringes label (Invisible Ear) where he returns to a concept explored on his first LP Fonetiks, issued on his now defunct label ACTA).

"On Invisble Ear some sounds are just amplified, with no feedback present - some are produced from feedback, with no extra added effects," he said. "I use the microphone as part of the instrument, for amplifying small sounds and manipulating feedback. I left that a while ago, but have now returned to it because I have been working with more electronic musicians over the last five years. But this is the first recording where I've really focused on this in my solo work. And there are some multitracked pieces as well."

Like many of his colleagues, Butcher has maintained an interest in electronics over the years; not as a user of them himself, but in interaction with others. Of late, he been working with the highly touted German synthesist Thomas Lehn and guitarist Andy Moor of the Dutch band The Ex in a group called "Thermal." He also recently undertook two US tours with fellow compatriots - and string players, once more - harpist Rhodri Davies and violinist/sound manipulator Kaffe Mathews (who played only laptop on the tour). A tour with the group Polwechsel, however, was sadly canceled.

Polwechsel, who have since disbanded, provoked some discussion among a number of pundits, who have openly criticized it for its overtly minimalistic approach. One writer in particular, Chicago's John Corbett, has taken this whole school to task, arguing that it basically festishizes sound and has too much to do with control, ideology and aesthetic purism. Asked about the particular tangent of 'ultra-minimalist' improvisation practiced nowadays, he is quick to set the record straight on one point:

"Polwechsel is not an "ultra-mimimalist" group," he said. "If you listen to the three CDs I'm on, it's not at all clear what the 'rules' are. Yes, there's a certain avoidance of the kind of gestures that have more traditional 'gut-level' impact, but there's no fetishizing of silence, just care and attention to small detail and its relationship to overall form. I see my own involvement there as a natural development from the work I did with 'News from the Shed' (with Paul Lovens, Radu Malfatti, Phil Durrant and John Russell) in the late '80s. The kind of music I think you mean by so-called 'ultra-minimalism' seems to be around in a few different places these days. I've heard both good and bad. On the surface it seems easy to do, which is probably why a lot of it is boring, and you hear players who are only working to a formula, music by numbers. Actually, there are only a handful who can make something happen, who understand the tensions of sound and silence. I've noticed that it seems to go with a tendency for players to try and find one thing to trademark as their input, which is not unlike aspects of the visual art scene, where there can be a too desperate search for a personal signature. It's an interesting contrast to how it felt when I was looking for ways to contribute to improvising. I'd try not to draw too much attention to 'new' sounds - as that wasn't where the music was - but it was in the relationships created between them."

John Butcher is as much a musical thinker as a doer, capable of clarifying his intentions with very effective turns of phrase. But beyond words, the sounds are what count and from his vantage point, he has honed his intuition to the point of sizing situations that are best for him.

"I like playing with people I have a long history with, but not too often," he said. "When you do a concert it's still fresh but you're working from a collective memory of your earlier concerts. New encounters can be great - and sometimes they develop into long relationships. With a first encounter you can often tell within 30 seconds if it has a life ahead, or not."