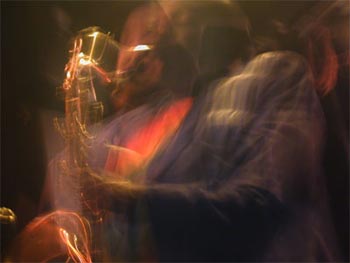 [Photo: Kurt Gottschalk]

David Murray took the stage at one of the most prestigious halls in New York City in mid October. The room itself was the beautiful new Zankel Hall, but this was nevertheless Carnegie Hall, which no matter what – even when pop brothers Hanson rent it – is a statement.

Less than a decade ago, Murray was living in Brooklyn, leading a big band Monday nights at the Knitting Factory and playing well lubricated gigs at the Village Vanguard and other spots around town. Despite being one of the best jazz horn players alive, he was another New York gigging musician.

But times change, and now his appearances in town, once or twice a year at best, are events. On this night, it was the 10 string players - in addition to his quartet of pianist Lafayette Gilchrist, bassist Jaribu Shahid and drummer Hamid Drake - that made the gig a concert proper. But even if this was Carnegie Hall and even if the string players were in concert black, the only orchestra Murray was taking cues from was the Love Unlimited. And while he didn't mention Philadelphia, he alluded to his other musical journeys of recent years.

"My quartet is the core of my explorations in Africa and the Carribean," he said from the stage. "We've traveled many miles together and we have many more miles to travel."

Murray's sculpting of events in part relies on a fonder heart borne of absence. But it's also – or would seem to be – by design, part of a master plan. When asked after a rehearsal for his Cuban Big Band's appearance at the Knitting Factory in January why he doesn't play in New York anymore, he said simply "That's by design."

It's also logistics. Murray left New York to live in France in 1995, where he and his wife Valerie Malot run 3D Family Productions. Since then, his performances in the town he called home for some 25 years haven't been gigs, they've been concerts: proper halls, thematic programming, and ticket prices to match. He brought a big band to Aaron Davis Hall in Harlem to play the music of Duke Ellington and appeared with his octet on Broadway for a performance with the dance troupe Urban Bushwomen.

And after three score and more cds leading dozens of musicians through his insightful arrangements of the jazz repertoire, Murray announced his retirement from jazz around the time he left New York, saying he would focus his efforts on musical traditions of other cultures. That and the move to Paris marked his fall from New York jazz darling, our own anti-Marsalis, to an outsider, someone whose name most often elicits responses like "Is that guy still around?" and "Oh yeah, what's he been up to?"

But for Murray, the musician's life in New York was getting worse, with fewer places to play and less opportunity to get paid.

"It seemed kind of a void, like things were going to change for the worse," he said. "The musicians didn't really want to stand up for their rights - the right to play anywhere they want to, to be creative. New York has always been the most creative city in the world. Conservatism had taken over jazz."

To sidestep that conservatism, Murray became a world traveler. In a tradition dating back to Dizzy Gillespie, Murray began looking to sounds from other cultures to feed his jazz. He's borrowed from the Carribean (Creole, released in 1998), Guadalupe (Yonn-De, from 2002) and now, Gillespie's beloved Cuba on the new Now is Another Time (released, like the others, on the Canadian label Justin Time).

"I'm not in everybody's faces," he said. "I'm in different people's faces all over the world. My mind is so far from New York at the moment. It's nice to be here, but I don't care to live here. I'm having the ball of my life right now."

The Cuban jazz he brought to the Knitting Factory shows that spirit. It's infectiously fun. But while the record was made with Cuban musicians (along with a few of his regular collaborators), the New York shows were a reunion of his old big band days, meaning pulling the musicians together and running charts with limited rehearsal time before the four-night stand.

Sixteen people, a baby grand, drums, congas, an upright bass, three trombones crossing over music stands, a five-strong sax section plus the bandleader and his unrivaled tenor were crowded onto the stage, the same stage where he held court on Monday nights for a good chunk of the '90s with his big band, often under the conduction of Lawrence D. "Butch" Morris. Rolls of sheet music fell from Murray's stand as he sang "New York, OK," then called "Sad Kind of Love."

"Ok, so y'all gotta groove with that," Murray said to the band. "It's weird, but ya gotta groove. You could even put it into a rock thing if you want - pah pah pah - but it's gotta lock. What's happening here is we're playing a ballad, and it's not going to get fast."

Much of his conducting during the rehearsal involved pointing heavenward with his right hand - always up, always more. Whatever project Murray takes on, he's unlikely to demand less than fire from is band. The band ran through some unmistakable Murray heads, vintage even, the pure sugar of albums like Shakill's Warrior, but with a Latin backbeat.

Whatever the influence, the Cuban here or the other "world music" projects he's taken on, the music swings. Taking the jazz out of David Murray would be something like taking the soft out of a pillow.

"It's jazz," he later affirmed. "It's my way of trying to seize something Latin inside what I'm doing.

"I started out studying the rhythms of the drums," he said. "I'm not a master of it. I just tried to study the masters." He cites Cuban pianist Monolito Simonet and flutist Jose Luis Cortez (who appears on the new record) as some of the sources to which he's been turning.

"It's not just me blowing my horn," he said. "You're going to countries, pacing out the project. I'm learning and I'm teaching. It takes me away from the mundaneness of what jazz has become. I think my life is a lot more exciting than a lot of jazz players."

Asked if he thinks he's fitting more into a world music than a jazz mold lately, he was careful not to commit.

"I haven't played at that many world music festivals, so I guess not," he said. "As long as I'm playing the jazz festivals, I guess what I'm doing is jazz. The European community is putting more white in it on the one side, I'm putting black in on the other. Me being an African, it's probably the truest thing I can do."

Still, he said, following the rhythms of the African diaspora isn't his sole ambition.

"I'm interested in China," he said. "There's so many curiosities in the world, for me to focus just on "I Got Rhythm" is kind of stupid."

But if his concert at the Knitting Factory was a cross pollinization, the Carnegie Hall night was pure jazz; if he was following in the tradition of Diz before, here he was touching on something that goes back to Charlie Parker with Strings. They played Billy Strayhorn's "Chelsea Bridge," a piece dedicated to Curtis Mayfield and a second for John Coltrane, in which Murray went from 1958 to 1966 in the first two minutes, eclipsed Trane altogether from a moment, then landed squarely in the early Impulse! years and worked his way to 1968.

It's with no false modesty that he takes on Trane, and he can kick it with Prez and Bean, too. And when he skips across them all like a stone across the surface of a pond, that's pure Murray. He sells big ideas, and in the end you can't blame him for whatever it takes to get him where he's going. But ultimately it isn't big ideas he delivers. It's a variety of pastiches and facades, borrowings and labellings with the same saxophone he's been playing for decades. Which may sound like harsh criticism, but it isn't, for the simple reason that Murray is still about the best saxophonist in jazz. He's easily the most dextrous and soulful, and that's what he's paid for. He's not a conceptualist, and he's not even a great composer. Out of the scores of pieces he's composed, only a handful are really memorable (and perhaps only "Hope Scope" is truly great). But his huge tone and his rich soulfulness, not to mention his equally great bass clarinet playing, have been one of the pure treasures in jazz for three decades. The rest is just window dressing.

And somewhere, behind all the dedications and below the Ben Webster hat, Murray seems to know it.

"I believe in the past," he said. "You have to study the past to have a strong future. The history of jazz is so short, why not know everything?"