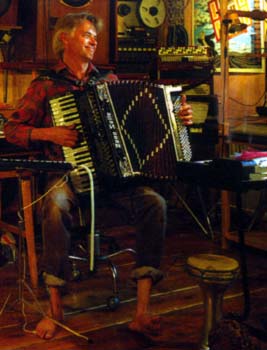 [Photo: Pelle Engman from the album utsikter]

"My influences? Hard to tell. Of course I like artists like Robert Wyatt, Albert Marcoeur, Tamla Movton, Wagner, Beethoven, Prokofieff...even some stuff of Michael Jackson."

Lars Hollmer is a true original. From his home base in Uppsala, Sweden, Hollmer and his accordion explore sublime regions of varied musical worlds, drawing on rock, prog, Scandinavian folk music, circus music, organ grinders and other cultural traditions. "Lately I have been listening to much from Japan," he said. "I have been so occupied with Japanese musicians and I have been to Japan six times." Along with his group Sola, which draws on those Japanese influences, Holmer works regularly with the groups Accordion Tribe and Von Zamla. But he is perhaps known for his progressive rock group Samla Mammas Manna, who undertook their first US tour in the fall.

Over more than three decades of performing, Hollmer has consistently been a tireless performer and dazzling composer. Just about any sounds or rhythms that may enter his world seem to be fair game and may eventually turn up on a composition. He is a noted keyboard player often blending his compositional pieces with a ferocious ability to improvise. The Samla sound especially, is often upbeat and at times almost whimsical, crossing musical boundaries and creating a warm blend of pleasing melodies within complex time signatures. "I always write the music down on paper," he said. "I need to do it to be able to communicate with other musicians. I compose everything myself from the heart. Nowadays I also have Pro tools for recording and I use Logic Audio Platinum for composing. It is much easier now. I have big experience from the past with analog tapes, multitracks. So much easier now."

Samla was originally formed in the late 60s, rehearsing and recording in Hollmer's home studio, which has become known over the years as the Chicken House. (The Zamla side of Fred Frith's Gravity was recorded there). "Mainly all my recording work I do in the Chicken House," he said. "I've had it since the mid '70s. I made the Chicken House myself and it's mainly two rooms, one kitchen and one studio. CH is located 50 meters from our living house in the country outside Uppsala. I'm very happy about it! It has great sound and now I have excellent tools as well."

The Uppsala countryside has remained his home base, despite the quiet lifestyle. "It is not a very big town," he said. "It is a university town, close to the airport, and close to Stockholm. The music scene is so-so. I don't play her so much but many good musicians live here. I have thought about moving, but since we built a house ourselves in the countryside and we have four children it has not been so easy to move. Also I have my studio here. If not Sweden, Italy maybe , or even Japan."

After years of recording and touring in Sweden, Finland, and Norway, Zamla was invited to tour Europe with the legendary British band Henry Cow. This helped further Zamla's contact with different European bands such as Univers Zero, Etron Fou, Stormy Six and Art Zoyd, among others, enmeshing them in the Rock in Opposition movement. "The nicest part about RIO was that suddenly we found out that we were not alone making strange music," Hollmer said. "Other groups like Univers Zero and Henry Cow had their own tracks but we found several common things. It was great to collaborate and to be invited to play in other European countries. Of course many influences were moving around."

Despite acclaim among the progressive rock community, Samla Mammas Manna had never played in the United States before this year, when they headlined the Progday Festival held in North Carolina. "I don't know why we haven't played in the US before," Hollmer said. "Fred Frith wanted me to come to the Knitting Factory in the '80s and we negotiated about playing there many times but always something came up."

The new incarnation consists of the core of the classic '70s lineup, with Hollmer on keyboards, guitarist Coste Apetrea, and Lars Krantz on bass, with Ruins drummer Tatsuya Yoshida, himself an unabashed prog fan, joining in. Hollmer and Yoshida had previously played together in Sola, and the power drummer was a strong addition to the Samlas. "Great with Tatsuya Yoshida in Samla!" he said. "It is not easy to take Hans Bruniusson's place but Tatsuya makes it great, and he adds good energy to the band."

Even without playing the US, Lars' tour schedule is demanding. "I'm on the road several times a year," he said. "Last year I had five repertoires in my head, Samla, Accordion Tribe, Sola, Fem S÷ker en Skatt, and solo, and I toured like hell! This year less, but I have been in Japan twice and on a tour in France solo. Plus some gigs in Sweden. The audiences have been great. I have got a kind of reputation from over the years and it may help a bit, especially in Japan. Toyko is a nice city to play.

"Recording is enjoyable but overall I can't stand just sitting in a studio," he added. "I need to meet an audience. Also the music develops in front of an audience and for me to play and share the music with other musicians is the biggest pleasure."

Samla Mammas Manna brief US tour included a stop in New York's Knitting Factory at the end of August, where they shared the stage with two other heavy prog outfits. The evening began with Nick Didkovsky and the great Dr. Nerve playing their wonderfully tight compositional madness for an appreciative crowd. They were immediately followed by the impressive Ron Anderson and Pak, who ripped through their set with a heady combination of power and control. The two bands warmed up the recently renovated Tap Bar for Samla, who delighted the crowd with their light-hearted ease and complex musical progressions. Hollmer was especially impressive as he directed the band, chatted casually with the audience and played difficult passages without a misplaced note, frequently all at the same time.

That onstage juggling act seems to be how he manages much of his work. In the coming months, Hollmer will release two new cds, include a "Chicken House Archives" disc in Japan, and has tours booked for December and March, as well as an Accordion Tribe tour in February. And he is working with Michel Berckmenns to form a larger group with a string section. "I hope I can keep alive some more because much remains to do."