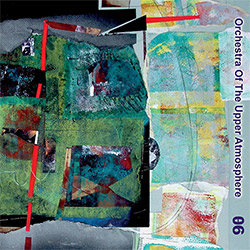 The Orchestra of the Upper Atmosphere is the brainchild of multi-instrumentalist, composer and Discus label owner Martin Archer. Theta Six is their sixth and most recent release. For the uninitiated (as I was until very recently), the Orchestra leans toward the kosmische Musik side of prog, maybe along the lines of Tangerine Dream ambience but with a bigger band, more acoustic instrumentation, more rock, and a strange astro-orientalist bent. The result is an otherworldly blend of the liquid, the sparkling and the tenebrous.
And, it flows. Theta Six has some jarring and scattered stretches, which inevitably melt into more lyrical and celestial territory. "African Lady Pilot" is a standout in this stylistic corner. It has a heavy touch of acid jazz and a lot of Middle Eastern-space/futurism. Some pieces, such as the closer "Message Parlour-For Alan", lean more heavily into the effects, a fluttering, crossed inter-dimensional radio transmission. "Spinshift" and "Marabaraba", the 9th and 10th tracks, are united by an infectious low-end groove, a floating melody and haunting, monochrome vocals that draw elements from new wave pop and drum and bass/low-fi glitchy lounge back-beats. Much of Theta Six and especially this section would fit seamlessly into the soundtrack of some uber-hipster coffee shop. But a closer listen would dispel any assumption that this is meant for the background. So much is going on in the undercurrents. Sounds and tunes peak in and out. The playing is refined and restrained, yet surprisingly full, even in its sparse moments.
I was not sure what to make of this album at first listen. The music is complex and variegated, but the execution and production are so slick. If one's attention wanders, it might miss how eerie and rich sections of this Theta Six are, or how well-crafted this album really is. Even so, a superficial listen will hear a fine album. If the listener concentrates, however, they will hear the vision, the nuances and the myriad stylistic inputs so effectively harnessed in this proggy piece of concept art. Just listen to those early reeds that lend melody and strange time-bending, cosmic mood to the first track, "Forced Orbit". The force and vision are certainly strong with this one.
Comments and Feedback: