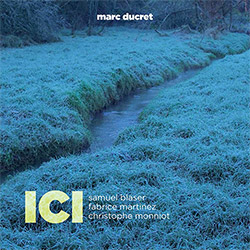 ICI is the most recent and eighth release as (co)-leader by guitarist and composer Marc Ducret on Ayler Records. On it, Ducret is joined by Fabrice Martinez (trumpet, flugelhorn and tuba), Christophe Monniot (sopranino, baritone and alto saxes) and Samuel Blaser (trombone). Before first listen, the instrumentation itself points to interesting sounds. No rhythm section. No strings apart from Ducret's, which are electrified. A few horns, but also a mixture of the more and less conventional.
This is also a release that was conceived and performed in less than conventional circumstances during the Covid crisis. According to Ducret, the lockdowns, quarantines and travel restrictions got him thinking: "Since it is currently impossible to play THERE, let's make some music HERE!" "Here" was outside by streams, trees, mountains and shores in France, which is documented not only in the sounds but also in the brief photo-booklet that accompanies the release.
I am tempted to chalk this up as a departure in terms of composition. The horns are distinctly third stream. The are sweeping and colorful, in a vein that sounds inspired by Gil Evans arrangements. Ducret's guitar, however, collides with anything too much in the cool, composed jazz vein. It generally floats in the background but does much more than traditional jazz guitar does. It is busy, taking on the role of the absent rhythm section on some tracks and adding a hissing electronic framework to other compositions. Of course, Ducret cannot completely subdue the characteristic style that has made him stand out among contemporary guitarists. He steps forward at points to lay out some jagged melodies and shreds. However, this is much different from his guitar-forward releases, such as Palm Sweat. Given the moods, this sounds like an expansion of his Bridge project (captured on several Ayler Records releases), but with the composer/leader filling out and roughing the edges of the intimate and delicate dance that Martinez, Monniot and Blaser perform. A wonderful recording, especially for the times you just want to lean into and extend the moment.
Comments and Feedback: