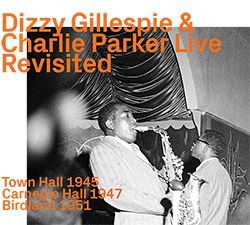 Anyone who has sought guidance from one of the reputable "building a jazz collection" books or magazine articles will know that they tend to recommend Charlie Parker's Savoy and Dial studio recordings from 1944-48. Good as those recordings are, there is a strong body of opinion that Parker's live recordings from the same period are superior to those studio ones. In support of that view is the fact that the studio recordings tend to be shorter than the live recordings, allowing live soloists to stretch out and explore more. The facts support such views; for instance, the studio version of Dizzy Gillespie's "Salt Peanuts" clocked in at 3:15, while the live version on Live Revisited runs for 7:35; similarly, the studio version of his "A Night in Tunisia" is 3:03 long compared to 7:23, 5:07 and 5:23 for three live versions here.
Live Revisited comprises three separate New York City live recordings from Town Hall on June 22nd 1945, Carnegie Hall on September 29th 1947, and Birdland on March 31st 1951, fifteen tracks altogether running for 80 minutes. The line-ups vary, with Parker and Gilespie being the only ever-present musicians. For the Town Hall gig, they were joined by Al Haig on piano, Don Byas on tenor saxophone on the opening track, Curley Russell on double bas with Max Roach on drums on the first four tracks and Sidney Catlett on drums for the last two. The group was announced to the radio audience as Dizzy Gillespie and his quintet. Of the six pieces performed, "Hot House" was by Tadd Dameron, "Fifty Second Street Theme" by Thelonious Monk, and the other four, including "Bebop" and "Groovin' High", all by Gillespie. Throughout, the music is fresh, dynamic and vibrant, no doubt reflecting the excitement of the musicians and audience at being in a large, prestigious venue rather than some far smaller place on 52nd Street, such as the Three Deuces.
At Carnegie Hall, Parker and Gillespie were joined by John Lewis on piano, bassist Al McKibbon and Joe Harris on drums. The pieces played had not changed dramatically, additions being Gillespie's "Dizzy Atmosphere" and Parker's "Confirmation and "Koko". As before, the air of excitement was tangible throughout. At Birdland, Parker and Gillespie were joined by Bud Powell on piano, Tommy Potter on bass, and Roy Haynes on drums; they played Gillespie's "Blue 'N' Boogie", Parker's "Anthropology", Monk's "'Round Midnight" as well as "A Night in Tunisia". As "A Night in Tunisia" was the only piece performed at all three concerts, it is worth comparing the versions; they all reveal musicians who are enjoying themselves, the music they and their bandmates are playing. Taken as a whole, Live Revisited is a five-star example of bebop at its thrilling best.
Comments and Feedback: