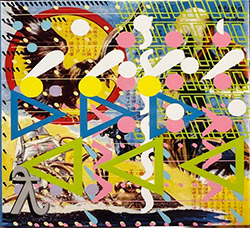 A whopping double dose of Dada from the duo of Chefkirk (Roger Smith) and Crank Sturgeon (Matt Anderson). Cheap electronics get poured into a large ornate mixing bowl and twiddled about to lovely effect. A hint of the ol' idiot glee is at work here methinks. Loops thick with pocket lint get submerged under squealy chipmunk trailer wheels amid an unintelligible mutter-line. I cannot stress enough just how dangerous driving became while listening to this on the car stereo. So keep it at home, obviously.
Writers used to refer to double albums as "sprawling" and I think that term might be a bit too gauche to apply here. From the eye-popping computer-made cover art to the long recitation of long-held truths, this is a tidy achievement indeed. What does it sound like? I guffaw at the very question, but I'll try to answer it anyway. A thick field of electricity welded to a roomful of barely articulated notions, corralled by a couple of giggling cohorts sharing a number of in-jokes simultaneously. Yes, there is crackle. And fizz, and chirp and whinny too. Plus a lot of stuff that's unnamable, so I won't even try. A clue might be the eagle, frog and ship-devouring squid that lie waiting under the pastel pink, yellow and lime green pasties on the front cover. This stuff is just plain fun. There's so much going on at times that you just have to sit back and let it rain down on you and be happy to catch the odd detail. Over time you'll learn to love it all. Unlike much that gets lumped under the general rubric of "noise" these gentlemen swing vary hard toward the idea that making a racket is one of the last joys known to mankind. Perhaps this will inspire you to your own revelry.
In the interest of full disclosure, I have witnessed Chefkirk in the flesh and over the years have bought handily crafted contact mics from Mr. Sturgeon. Neither of those occurrences in any way influenced this review.
Comments and Feedback: