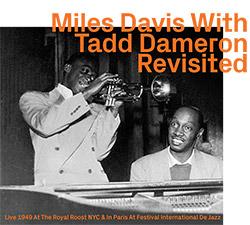 Revisited comprises two live recordings which Miles Davis and pianist Tadd Dameron made together in 1949, one side of The Great Jazz Concerts At The Original "Royal Roost" (Jung Cat Records) and In Paris Festival International De Jazz May 1949 (Columbia 1977). The six tracks of the former, a bootleg, were recorded on February 19th or 26th and featured Tadd Dameron's Big Ten of Davis on trumpet, Kai Winding on trombone, Benjamin Lundy on tenor sax, Sahib Shihah on alto sax, Cecil Payne on baritone sax, John Collins on guitar, Dameron on piano, Curly Russell on double bass, Kenny Clarke on drums and Carlos Vidal on conga. Partly broadcast on French radio, the nine tracks of the latter were recorded between May 8th and 15th at Salle Pleyel, Paris and, in addition to Davis, Dameron and Clarke, featured James Moody on tenor sax and Barney Spieler on double bass.
At the time, Davis, still only 22, had effectively left Charlie Parker and bebop behind, and was in the process of recording his ground-breaking Birth of the Cool sessions. All of which might explain why these recordings with Dameron have rarely been praised as examples of Davis' music. Notice that Columbia, the label which released such Davis classics as Milestones, Kind of Blue and In a Silent Way, did not release the Paris album until twenty-eight years after it was recorded, by which time Davis was into his fifties and his sex-and-drugs hiatus. Maybe it is time to re-evaluate Davis' two albums with Dameron?
Of the fifteen tracks, none of them is a Davis composition, while five are credited to Dameron; "Good Bait" the only piece which was played by both groups was credited jointly to Dameron and Count Basie. Ironically, "April in Paris" was played at the Royal Roost but not in France. In typical fashion, the ezz-thetics release has better sound than past releases; however, with the bootleg-quality sound of the Royal Roost tracks and French radio announcements obscuring the beginnings of several tracks, it is far from ideal. Those are quibbles compared to the overall quality of the music itself, particularly that from Paris where Davis was acclaimed and responded accordingly. As a result, his playing is self-assured and exploratory. Compared to earlier recordings, for the first time he sounds mature and ready to be a leader rather than a sideman.
Comments and Feedback: