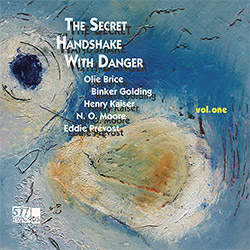 Seemingly allowing UK percussionist Eddie Prevost, founder of the microtonal AAM group, to prove that he's still a dynamic player, this session rocks as hard as any fusion disc, but the two tracks are also spackled with astute sonic asides. Joined by three Brits — powerful bassist Olie Brice, often heard with Paul Dunmall; hyperbolic tone-twisting saxophonist Binker Golding and pyrotechnical guitarist N.O. Moore, who recorded with the drummer in trio form; the four get an extra boost of sonic adrenaline from US guitarist Henry Kaiser, whose maximalist aggression has been featured in varied aggregations with innovators like ROVA and Wadada Leo Smith almost as long as Prévost has been an AMM member..
Both guitarists vibrate synthesizer-like echoes and pedal sourced wah-wahs and reverb. But rather than detracting from the pure improvisation, these tremolo shakes and timbral distortions provide extra sonic dimension at points. With one upfront and the other decorating the narratives, both guitarists expel singular picks and frails with solo fluctuation into near psychedelica. Golding's extended reed techniques are all over the tracks with slippery squeals, slurping split tones, altissimo squeaks and shaking flattement. But he's also capable of restraint as he shows on "Door 2", with a brief passage of mellow line elaborations cushioned by strumming guitar phasing, bass string slaps and double pumped percussion. Brice, who solos only briefly on "Door 1", solidly anchors the tracks into linear expositions and serves as a steadying resource throughout as does the drummer's connective patterning.
With the concluding sequence of the second and final track suggesting a malleable but distorted tremolo variant on a dual guitar showpiece layered with quieter thumps from the bass and drums, it appears the five have more original improvisation to explores. With Vol. 2 promised [in November, 2023], we should soon hear the results of these further musical handshakes with danger.
Comments and Feedback: