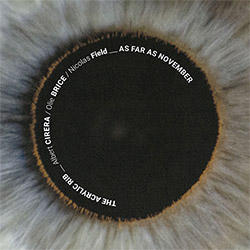 Although recorded in Geneva, the foreign nationals gathered here weren't taking advantage of Switzerland's famous secretive banking system. Instead Spanish tenor/soprano saxophonist Albert Cirera and the UK's bassist Olie Brice and percussionist Nicolas Field with their Acrylic Rib trio aimed to communicate with many people as possible at this club gig. Cirera, who has worked with Agustí Fernández, Brice with Paul Dunmall and Fields, who is also a visual artist, show on two tracks that evolve on either side of 30 minutes, that they've nurtured a tight musical connection unaffected by nationality, written music or monetary policies.
Never really soloing, Fields instead nudges ahead the improvisations with a collection of clanks, ruffs and rebounds, extending broken-octave connections with rim shots and accenting passages with bass drum wallops. Brice's skill allows him to sound two tones from a single string with the resulting strums and plinks periodically creating separate refrains as well as adding to theme projection, often in tandem with Cirera. Broad bowed strokes introduce the second selection, but arco or pizzicato is Brice's preference for low-pitched, slow-moving continuum rather than the occasional sul pontcelo pressure or super speedy strums.
With such synergy from the others, the saxophonist has the perfect backdrop on which to explore every nuance of the narratives. His asides range from fierce elephant-like trumpeting to sopranissimo peeps and renal growls. Throughout he repeatedly creates interludes of basso scoops, intense multiphonics, wallowing stutters, R&B-like repeated honks or hyper-vibrated tongue stops and squeaks. Such is the trio member's coordination that any time he — or occasionally the others — threatens to upset the horizontal unity, timbral partnerships, especially resulting from Bruce's powerful plucks and stops, reconfirming the sonic pathway.
International organizations headquartered in Switzerland specialize in tripartite and larger agreements. Members of The Acrylic Rib reflect the former in their group make up and the later in the multiplicity of timbres they bring to their improvisations.
Comments and Feedback: