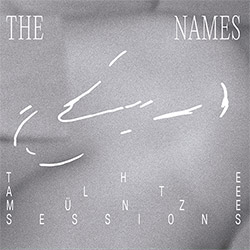 It's always fascinating when a new set of music reminds the listener very much of the general territory of some far older work, even though one has no idea if that earlier music is being intentionally referenced or if, indeed, it's even known by the contemporary musicians involved.
The Names are comprised of five musicians from Germany and the Netherlands: Heather Frasch (flute), Carina Khorkhordina (trumpet), Koen Nutters (bass), Han-earl Park (electric guitar) and Quentin Tolimieri (bass & soprano melodica). Though I would never describe them as a "jazz ensemble", the echoes I hear do stem from that world, including those heard on the opening piece, 'GEL (George E. Lewis'. The four compositions all bear names of presumed dedicatees — the others are Tolimieri, Angela Davis and Germaine Sijstermans — and a score of sorts is presented on the inside of the CD sleeve that indicates tonal centers or even actual notes that correspond to the letters of their names, first, middle and last.
The references I pick up on remind me of a certain area of music created by musicians out of the AACM in the late 60s and early 70s, not the more jazz-oriented or free work but, rather, the quieter, somewhat more contemplative music also heard at the time. That first piece, for instance, calls to mind Anthony Braxton's 'Composition 36', heard as Side One on his album, 'Trio and Duet' (Sackville, 1974) performed by Braxton, Leo Smith and Richard Teitelbaum. Similar pitches, layering of sound and attacks, especially the trumpet. It's by no means an imitation, more a (very likely unintentional) elaboration on that kind of sound-world, and it's very, very beautiful. There's even a slight evocation, to these ears, of Roscoe Mitchell's 'Tnoona' ('Roscoe Mitchell Quartet', Sackville, 1975) on which Lewis in fact plays. On 'QT', I'm brought back to some of the more pastoral ruminations of the Art Ensemble, particularly in some passages from their classic work, 'The Spiritual', which I believe was largely written by Mitchell.
There's a similar sense of gentle but purposeful exploration. Variations of these approaches suffuse all four works. Calm lamina of gorgeously intertwined tones, often softly pushed forward by bass, but always steady yet varying, somber and reflective. The recording is a subtle joy. Whatever their influences, The Names have crafted something quite original and deeply felt.
Comments and Feedback: