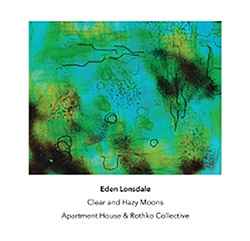 Although Eden Lonsdale has been composing since 2018 and his pieces have been featured in prestigious performances since 2020, Clear and Hazy Moons is his first album release. He studied composition at the renowned Guildhall School of Music and Drama in London where the compositional staff included Laurence Crane and Cassandra Miller — both of whom have releases on Another Timbre — as well as James Weeks and Paul Newland. Lonsdale has said that through such composers he found his way into the universe of Another Timbre, Wandelweiser, Plainsound and so on. It is impressive that Lonsdale cites Another Timbre as a source of inspiration and that his album is on the label so it can inspire future generations of composers, thus creating a virtuous circle...
The album comprises four compositions, all dating from 2021-22, with running times ranging from 14:35 to 24:18. Three of them are October 2022 studio recordings of Apartment House made by Simon Reynell at Goldsmiths Music Studio, London. Rothko Collective — a young group of players who Lonsdale met and became friends with — play the fourth, the album's title piece which was written for the ensemble; the recording was made by Lonsdale on his handheld zoom during the dress rehearsal for an April 2022 concert at St Giles without Cripplegate, London. The two ensembles have similar instrumentations, both being ideally suited to Lonsdale's music.
The opening composition, "Oasis" is the oldest here, having been written while Lonsdale was still a student. Shortly after it was completed, Apartment House's leader and cellist Anton Lukoszevieze contacted the composer and said they wanted to play the piece, the first contact Lonsdale had with them. It is not difficult to understand why the ensemble wanted to play the piece, as its sustained overlapping notes create an ambience which is not immediately reminiscent of any other composer's work, yet is beguiling from start to finish. Just as atmospheric, albeit rather more eerie, is "Clear and Hazy Moons" which suggests that Lonsdale should compose more film music, having already written music for the trailer of The Undernet in 2021. By way of contrast, the two remaining tracks, both performed by the same Apartment House line-up of strings, woodwinds and brass, are rather more melodic and uplifting. Lonsdale readily concedes that the melody he used for the next piece, "Billowing", is not dissimilar to one by Stravinsky — no bad thing when one considers how many fine composers have drawn on other works for inspiration. Living up to its title, "Anatomy of Joy" is just as positive, and concludes the album on a high note. After repeated listening, it is impossible to find flaw with any aspect of this album's compositions or the way they are played. We shall be hearing more of Eden Lonsdale.
Comments and Feedback: