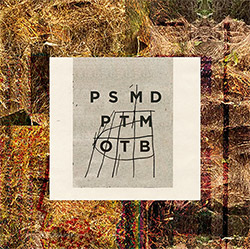 Confession time: I'm diving in way over my head. I know very little of Tim Berne's music and less of guitarist Marc Ducret, though, if this disc is any indicator, I need to remedy both situations post haste! To suggest that both Ducret's playing and Berne's compositions are elliptical would be to box them in ways that do not square up to the sounds on offer. Similarly, to say that Ducret has dropped a solo album is both true and a kind of understatement, both regarding his contributions and those of his occasional collaborators, including several appearances by his cellist son Bruno. That said, this is certainly a guitarist's album, and a more diverse and exciting one would be difficult to imagine.
Even to point out the recording's merits, which are many, would never do the listening experience justice. Paralleling the compositions, everything sounds unique, right down to what should come off as a simple acoustic guitar on the two "Rolled Oats" entries. What we hear is a penetration deep into each of the instrument's nuances, from minuscule fretboard motions to the pop and splutter of each note and chord. Each sound slams into existence with the vengeance of dominating what has come before and prefiguring what's to follow, and yet the playing is stunning in its introspection. The music's origins are obviously as diverse as each of Ducret's sonic gestures, likely one reason for his long collaboration with Berne. The melodic ideas harken back to Henry Cow or The Muffins as much as the chords bring Gastr Del Soul to mind. Each of these pieces can be heard as intergenerational memory in full collaborative effect, a timbral and musical mixture obliterating genre in favor of what sounds to these novitiate ears like open-ended originality.
Ducret follows suit. Much of the album, recorded in pandemic isolation, is spent building craggy eddifices of counterpoint and overlap. Dig the gradual increase in melodic activity on "Shiteless," for an idea of how things might go as variously textured guitar is infiltrated by what sounds like distorted voice and then coated with gorgeous brass tinges, open interval sustains complemented by rapid-fire muted blues licks before the muted sounds take over the piece's next section. The larger works follow what I hesitate to call the pattern, because that implies that some sort of blueprint is in play, The opening triptych of "Curls/Palm Sweat/Mirth of the Cool" gives the lie to that! A haven for powerchord and distortion fanatics, its clarity is never in question, a propulsively forward mix and dry acoustic even pervading the surprise percussive ending. The programming also promotes formal consideration. Pieces are not presented in order of the numbers are to be believed, and tiny acoustic excursions can be sandwiched between those giant Ives-ian constructs of bone and muscle that really define Ducret's accomplishment.
The disc bristles with electricity throughout. It is visceral without letup, and so much the better, as so is the music, a Protean thing of snarls and snags a-plenty. Yet underneath all the distorto-growl and complexity resides a beauty confounding explanation, a love of melody, harmony and the way they interact, even if, like the sounds in play, that way is the one less traveled. If Berne's compositions engender such responses, I'm all in!
Comments and Feedback: