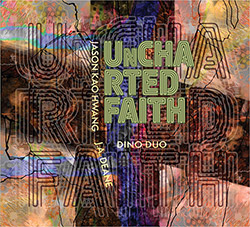 Despite the fact that the phrase is a cliché at best and a copout at worst, there is some music that is timeless. In this case, J.A. Deane and Jason Kao Hwang have made a musical statement that intersects chronological time as perception. It might hail from all points in-between 1971 and 2021, when the tracks were actually recorded, but there's really nothing else that sounds quite like it.
The story of the album is as compelling as the music. I won't tell it here. Just buy it and read the notes. I'll only say that Deane did not live to see the disc's release, though he guided it toward completion, including suggesting the massive violin overdubs on a track like "Speaking in Tongues." As the harmony (if that's really the best word to use) slides in and out of focus, and the wah-wah violin comes closest to recognizability of any sound on offer, orchestral textures torrent into the electronic symphony Deane so carefully constructed from tracks Kao Hwang sent him. That relationship is clear on the rhythmically punchy "Singularity" as pizzicato "samples" form the main ingredient of the increasingly pungent flavors comprising its brew. The melody glides, slides and floats with requisite snark over the top of that complex draught, heavily distorted and constantly morphing its dynamic way forward, destabilizing all around it. The same kind of procedure informs "Shamans of Light," but the rather snippy humor is replaced by a high-register melody of such beauty and then intensity as to be shattering. Equally astonishing is what occurs below as the sounds so redolent of David Cross are bolstered by what I can only describe as layers encompassing static in motion. All sense of movement, and there is quite a lot of it, is rendered glacial, as if a hill was caught in transit across a nearly flat surface. As the track finally decays into reverberant silence, the effect is equal parts spellbinding and unsettling.
The effects often scream middle 1970s or early 1980s, but the processing itself and the supporting mixes are crystal clear as only more recent technology can achieve. This is not music for casual listening, and its backstory only adds layers of depth and emotional intrigue to music that can already stand proudly on its own.
Comments and Feedback: