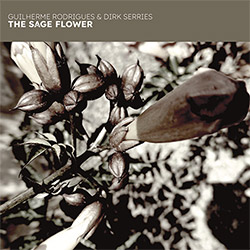 The Sage Flower is a collaboration between Berlin/Lisbon cellist Guilherme Rodrigues and Belgian guitarist Dirk Serries. As far as I can tell, it seems to be their first recorded collaboration together, or at least their first duo. This is somewhat surprising given both musicians' continued prolificity and their dedication to plumbing the atonal, amelodic and, especially for Rodrigues, the understated extremes of music. Then again, maybe this just meant their paths would have had to have crossed eventually. In this case, that eventuality came at a studio in Anderlecht, Belgium in March 2022.
This is, indeed, a studio recording and has that studio crispness. For collaborations under these conditions, wherein the musicians presumably engage in spontaneous compositions, that lack of an audience and urgency can sometimes drag. In this specific case, Rodrigues and Serries combat that pull through recording primarily short vignettes intermixed with a couple of longer pieces. Of the eleven tracks, just two top 6 minutes. That approach works wonderfully. It gives these two seasoned musicians the chance to pursue multiple directions that may or may not fit together into just one or two extended takes. The emphasis is less on development (though the longer tracks such as "Woody Stems", Unfold, and Punctuation Marks are the most engaging) and more on experimenting with techniques. Even when the music has extended potential, as in the soundsculpture "Landing III", they lean in just until the music could start to turn stale. Then, they stop. That seems to open Serries and Rodrigues, both of whom have a history of laying out long, deep and gradualist numbers, to fractured, clattery and more aleatory realms that they need not prolong for the sake of the long-form. Sometimes, it just takes a ditty — however warped, angular, entwined and clattery — to make a statement.
The Sage Flower captures Rodrigues and Serries in prime form. Both musicians are dauntless in their music making and their collaborations. As above, maybe this collaboration was bound to happen. It certainly is worthwhile and has already flowered into a quartet release with Ernesto Rodrigues and Nuno Torres, Brecht. Hopefully, these musicians, and scenes, will deepen their collaborations now that they have found each other. For now, however, it is good to catch it at one of its beginnings, in its curious (and, I should mention, entirely acoustic) fits and starts.
Comments and Feedback: