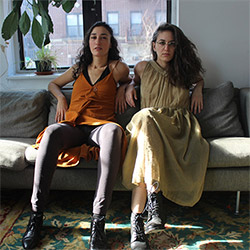 Violist Joanna Mattrey and violinist Gabby Fluke-Mogul have created an album comprising eight situations. That seems to be the most fitting term to describe these relative miniatures, lacking in subtlety though that description is, and the titles confirm the diagnosis. Each contains the all-important and somehow game-changing "The," simultaneously a unifying vantagepoint and a launchpad.
As often as not, the duo focuses in on an area and then proceeds to dismantle it, and that's half the fun in the disc's programming order. "The Vision," the outlier in length, is a gin-soaked bluesy romp through the borderlands of rhythm and meter, one that almost fails around the minute mark and resumes its folksy way forward only with parodic difficulty. It's lope, slide, drone and faulty trudge tells us nothing about what is to come when the much briefer "The Trinity" slams into gear. If the crunchy bits toward the conclusion of "The Vision" portend the onslaught, it's only through hindsight. Even more amazing than that initial blast of sonic mayhem is the aperiodic melting beauty of bowings as they separate from the initial aggregate, each a set of tiny parabolas and jagged shards of sound that finally and very simply disappear.
The musical diversity is astonishing. I assume that the opening intervals of "The Omen" come courtesy of Mattrey's stroh violin? The two players sound as if they're playing one instrument as those gorgeous consonances swell and merge only to fragment into the pluckings and scrapings that neither completely register nor negate disorder. The rest of the disc is a journey toward the implications of that fragmented soundworld, especially the final two pieces. Both take the proverbial deep dive into aspects of repetition, especially Mattrey's contributions, while Fluke-Mogul acts as commentator, drenching all in a sea of rhythmic complexity and interregistral percussion. A rare bit of humor ends the disc, as Fluke-Mogul emits a descending "oof" of farewell. It's a fitting conclusion to another of those Relative Pitch duo albums graced with power and subtlety in the service of unfettered invention.
Comments and Feedback: