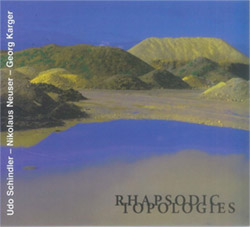 Quiet pops and knocks announce a start, like a cantankerous engine reluctantly turning over. Fleeting bits of held harmony and pregnant pauses indeed. gathered potential sparingly released over time. A mass of energy depletes, reconfigures, plays out. While decidedly tonal in its majority, this album-length recital shows the participants hot-eared and well-armed.
Udo Schindler on clarinets and cornet, Nikolaus Neuser playing trumpet and Georg Karger on double bass toss a jazz compendium in the air and shoot at it from all sides. Bits of various pasts run fleetingly across our radar as the pages shred, linked by the knowing comments of our three agitators. Count the references and you'll miss the overall gestalt. For the curious few though, there are rotten peels of Dixieland and weird soft-shoe scrapes...jokey time skipping and humorous asides. Coke bottle breathing and mouth pops, amid tricky belt loop threading. These guys are listening hard and constantly throwing monkey wrenches at each other. It's a welcome strategy ably deployed. That no one ever gets tripped up is testament to this.
Topologies is an apt way to describe these collected improvisations, with their surprising, shape shifting masses of sound. For those who don't believe their ears, the CD provides a YouTube link to a video of this concert.
Comments and Feedback: