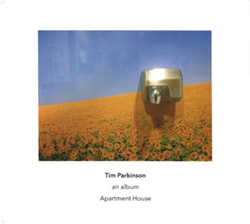 In 2005, along with John Lely and German-born Markus Trunk, Tim Parkinson was one of the co-founders of the highly-rated and successful London concert series Music We'd Like to Hear, which has continued ever since. As Parkinson and Lely are of similar ages, and each had a career which led them to work in academia, it is not surprising that they had albums released om Another Timbre within days of one another, albeit Parkinson's first album on the label and Lely's fourth. The albums did not feature new material but comprised compositions from a number of years, in Lely's case from 2012 to 2020, in Parkinson's from 1998 to 2017. It will come as no surprise to those familiar with Another Timbre that the music on both albums was performed by members of the ensemble Apartment House, some of whom regularly perform at Music We'd Like to Hear.
Despite its rather throwaway title, Parkinson's An Album is as good a place to become acquainted with the composer as Meander Selection is for Lely. An Album opens with the seventeen-minute solo "violin piece 1999", played by Mira Benjamin who is present on each of the album's five tracks. The track calls to mind two other Parkinson solo pieces, "cello piece (2004)" and "piano piece (2006)" both of which were released on Editions Wandelweiser. The simplicity and economy of the violin piece make it all too obvious why Parkinson's solo pieces were at home on that label. As the composer himself wrote in 2006, "I like the extremely refined sound of a note made by an instrument. I find the sound of a note to be a very extraordinary, elusive and indefinable experience. I like the sound of one note next to another, or at the same time as another." Given that, Parkinson must have been delighted with the violin piece in Benjamin's hands.
The album continues with the fifteen-minute "septet 2007" played on flute, bass clarinet, piano, violins, viola and cello, the seven instruments not overcrowding the soundscape but being employed so that they complement one other well. After "violin and piano piece 1998", a quintet (the septet minus its piano and one violin) plays "ensemble 2012", before the album concludes with "violin and piano 2017" which is not as spacious as the 1998 piece. All five compositions here, spanning nineteen years, reinforce the Parkinson quote above, the pleasure he derives from the sounds clearly being shared by the musicians of Apartment House. A joint success.
Comments and Feedback: