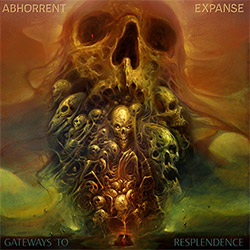 Abhorrent Expanse is a Minneapolis-based outfit that joins the aesthetic worlds of death/drone metal and free improv. What is unique, however, is not that Abhorrent Expanse are metalheads who wanted to jam unscripted for 45 minutes, nor that they were free jazzers who wanted to go hard for a while. Rather, the quartet of Luke Polipnick, Erik Fratzke, Brian Courage and Time Glenn are clearly, firmly and unapologetically rooted in some of metal's more extreme incarnations. On top of that, they have real improvisatory chops and a reverence for the outre jazz tradition.
Just over the first few tracks, one hears influences spanning black and death metal, to free improv (the beginning of the third track Empirical languages) to speed and thrash, albeit almost always on the heaviest end of these spectra. This group, however, does not just wear their influences on their sleeves, but fuses them into an utterly compelling breed of metal that seems singular to them. Yes, this shatters ear drums and melts faces. Yes, it is rife with scattered head-nodding breakdowns, relentless doom-and-gloom hellscapes and demonically gruff and indecipherable vocals. Yes, this has guitars, ranging from hyper-drive shredding to Sabbath-styled sludge to Bailey-inflected hyperactive noodling. But it combines all these elements with an openness and curiosity that makes it stand out even from distinguished metal-improv projects like the Sumac-Haino and Naked City. This strangely attractive, yet diverse balance persists throughout the entire album, including in stand-outs such as "Path of Extremal Action" (structured around some impressively nimble drum work by Glenn), the spaced-out tech-death romp "Frost Suffocation" and the epic final cut "Arcturian Nano Diamonds from the Tranquil Abyss".
Quite remarkably, Gateways to Resplendence is completely improvised. (This review is hardly the first to point this out, but it is worth repeating.) It sounds too structured and coherent for that to be the case. To the band's credit, moreover, the album avoids the onanistic trap of loud-volume, high speed jamming by relying on a remarkable knack for spontaneous composition — laying and breaking compelling structures in real-time — and a responsive dexterity rarely showcased in heavier music.
In short, an absolute hell of an album.
Comments and Feedback: