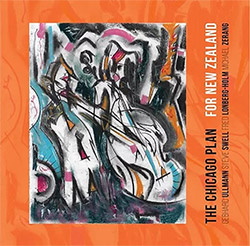 An exhilarating combination of improvised and pre-composed music characterizes this release featuring a quartet of creative musicians named after the post-depression social efforts known as The Chicago Plan. Right from the get go, a powerful collage of sound rises from long low tones and emerges like a beautiful creature with transformative power.
Of The Chicago Plan members, only cellist Fred Lonberg-Holm and drummer Michael Zerang are actually based in Chicago. Trombonist Steve Swell lives in NYC, and reed player Gerhard Ullmann, in Berlin. But they have been getting together for over 15 years, and the result is a band sound that is made up of tight ensemble playing that fuses complex pre-composed material (e.g. "Welcome to the Red Island") and free form improvisations in a seamless and fluid manner. The group also incorporates cross-genre navigations, from Western classical, and jazz-inflected styles, to new music experimentation and extended techniques...by any means necessary to the desired aesthetic end.
The gospel tones in the opening Swell-penned cut ("Composite 13-For New Zealand") morph into a groove-driven journey down rhythmic permutations of musical force. Between that and the closing track, some 40 minutes later, titled "Variations on a master Plan (Part II)" (allusion to Pharaoh Sanders?), we get a wide palette of sounds, motivic ideas and timbral combinations as individual instrumentalists delve into their bag of tricks to tell a story about and for New Zealand. The tracks were actually recorded at the Traumraum Studios in Augburg, Germany, but the music transports the listener and we imagine the power of the earth and sea and sky and people of that particular south seas location.
Swell's trombone, Ullmann's tenor sax and bass clarinet, Lonberg-Holm's cello and electronics, and Zerang's drums collaborate synchronously in crisp rhythmic statements, along with aleatory expressions of soul, very earthy and physical smudges, blears, streaks and blotches, and beautiful long lines of musical ideas, buttressed in a stunningly orchestrated fashion by the empathetic and attuned participants on this journey.
Comments and Feedback: