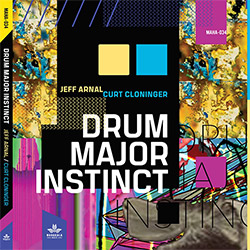 I've lost track of how many albums have been distributed as a consequence of remote recordings swapped during lockdowns. Yet every now and then, among the potpourri of random noises that have come into my possession, stuff that makes sense was discovered, and the result is just as cohesive as the product of an authentic studio session. This duet, which features drummer Jeff Arnal — whom we finally hear from after a long absence — and synthesist Curt Cloninger, delivers a variety of signals to ears eager for unusual sonic combinations as an instance.
Arnal's ability to splinter all types of pulse in a perfectly natural way, generating multiple rhythmic tides that manage to surprise even when characterized by a perceptible swing feel, reflects a flexibility of expression comparable to that of his mentor Milford Graves. Not to mention the expert application of color on each drum, whose skin is made to vibrate with incredibly fine detail by the percussionist from Asheville, NC. In contrast, Cloninger, who is better known as a multimedia artist than an instrumentalist, seems to possess the sincerity of intent typical of someone who approaches a complex instrument in order to learn from it. The multiplex sound of a modular synthesizer is a difficult beast to tame, but what one hears, for example, in the "Modulating Bodies (i-viii)" suite (of sorts), turns out to be quite rich in digestible enough vibrant matter, though — it must be said — not for those who use music as a background while they attend to other tasks.
Ultimately, we're not talking about mere awkward silence fillers and impenetrable resonances. Arnal and Cloninger's conversations are accompanied by the lovely song of a blackbird on "Walking In Rotterdam," and there are various points throughout the duo's first public performance, "Live At Citizen Vinyl", where the atmosphere is quieter but never assuaging. Under the surface, there is always something bubbling and waiting to reemerge in all its unpredictable glory. Drum Major Instinct requires reiterated attentive listening, as is the case when dealing with a record that is hard to categorize. But if heard at the appropriate time, it can also serve as a momentary estrangement from the surrounding world.
Comments and Feedback: