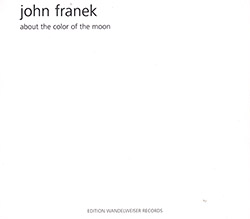 On this release, Franek performs four of his own compositions for organ and electronics. No other information is provided either on the disc sleeve or label site. Unlike label-mate Eva Maria Houben, it seems that the organ utilized is not of the older church variety, though given the ambiguous term, electronics, I guess it's difficult to say. re: that term, one picks up sine-like aspects that presumably derive therefrom, tones that tend to predominate over "typical" organ sounds.
The pieces range from about twelve to nineteen minutes and are pretty much steady-state, continuous sets of fluctuating tones. "Drones" seems to be the wrong term as they tend toward the transparent, without much in the way of grain, darkness or rumble. "in all the cold", the opener, shifts tonality over its course, from mellifluous to slightly sour, Franek adding in some textural sounds toward the end that evoke a distant, gradually shutting down motor-very effective. "as lapis" begins with high, feathery sine tones reminiscent of some of Lucier's hyperbola pieces. The tones splay out, differentiate and overlap producing the inevitable but always satisfying beats. "like wet stones" incorporates a bit of the perpetually rising tones listeners perhaps know from James Tenney's 'For Ann Rising'. The tonality is smoother, even "spacier", before it levels out into a rapidly percolating, slight harsh wash of sound. Finally, "mountains of night" uses as a base sound a kind of hollow howling, like a strong wind honed down to its essence, coursing through a resonant chamber. As with the other works, it mutates gradually over time, here morphing into a higher pitch range, very ethereal.
Franek limits his palette and exercises good restraint here, carving out some very attractive work. Not as "natural" as Houben, but fans of her music might find something to enjoy here.
Comments and Feedback: