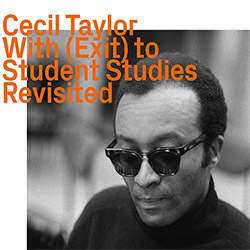 This reissue in the ongoing ezz-thetics series on Hat Hut Records brings together two significant sessions from 1966, the first released in 1968 and the second in 1973. Not surprisingly the difference isn't dramatic....evidence of a consistency in Cecil Taylor's aesthetic, which was nearly fully formed from the get-go and stayed the course, these sets seem to say, the liner notes' rebuttal of this idea notwithstanding.
Somewhere between chamber music and nightclub jazz, With (Exit), a track from the Blue Note records Conquistador, grafts jazz pyrotechnics with the rigorous techniques of non-idiomatic improvisation in a whirlpool of sound that has the energy of jazz and the creative freedom of avant-garde composition. The piano-centric sextet led by Taylor that includes trumpeter Bill Dixon, double bassists Henry Grimes and Alan Silva, saxophonist Jimmy Lyons and drummer Andrew Cyrille, performs a kind of concerto for piano, as Taylor's playing takes center stage so often, even with the frenetic bass lines that push the piece along. Cyrille's drumming is up to the task of matching the energy of the leader while bypassing the jazz kit clichés and playing to the piece rather than to any preconceived idiomatic parameters. Lyons, who was Taylor's long-time collaborator, is par for the course here, playing a wonderfully mellifluous foil to Taylor's forceful angularity, and although running 19:20 minutes, this piece seems to rush by and be over before you know it, there is that much condensed intensity here.
Some of the same things can be said for Student Studies Revisited (aka "The Great Paris Concert" of November 30, 1966), although at about 60 minutes, it's a creature of a different ilk, structurally speaking. While more expansive, it is also stripped down to a quartet, so economy of means is exploited as piano, alto saxophone (Lyons), double bass (Silva) and drums (Cyrille) intermingle, but again, there is a lot of the pianist's presence, as is to be expected (this is a Cecil Taylor record, after all!).
The four tracks of Student Studies Revisited are titled "Student Studies 1," "Student Studies 2," "Amplitude" and "Niggle Feuigle," so the serious and the playful commingle. Taylor's playing has much of the percussiveness and inventiveness of the earlier session, as well as the aforementioned avant-garde elements, which are here in full measure. The latter sessions show that Taylor and his cohorts, given the opportunity, could develop their compositional thinking with a judicious economy of means. This includes nicely bowed bass playing, some legato romanticisms on piano, some abstract drum work from Cyrille, and Lyons's explorations of timbre and air textures. But, as stated above, the consistency here is what is most striking. That, and the fact that this was powerful music in its day, and that the power has not flagged with time.
Comments and Feedback: