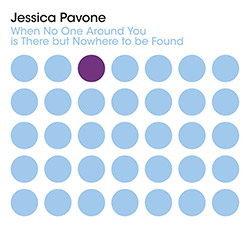 Jessica Pavone's fourth solo viola disc begins like the others, which is to say that a beginning promises no certainty of middles, ends or all points between. Pavone is as close as I can imagine to an abstractly organic artist, one for whom each event grows with reflective certainty from the one before but whose trajectory, rooted in each moment of crystallization, is delightfully unclear.
The concluding track, the startlingly transparent and ironically compact but expansive "Aednat" demonstrates how her music can unfold in something like a microcosm. It isn't even accurate to suggest a single pitch opening the piece. It's more like a complex, something Eliane Radigue might procure from the performers of her acoustic works, and the parameters morph in similar fashion. Relationships hinge on overtone and the amplification of harmonics, but Pavone adds environmental intrigue as a variable in her equation. Dig the reverberant distances in flutter and rotation as the initial tones fragment and beat against a noisy backdrop of whatever breathy component of the viola timbre she's emphasized via expert technological control. Is that really the upper partial amped up by 1:13, or is there a saw or crystal glass sample in play? None of it prepares for the power of an oncoming G, reminiscent of the slow build and pulsing burn of Silent Spills' titular track.
None of this is to imply that the disc is an exercise in drone and Protean staticity. We are treated to another spoken, or rather intoned, word piece in "Only in Dreams," but it's a study in non-symmetrical repetition as prodigal syllables slap back against their parent phrases as they attempt to make sense of the images, places and encounters defining planes of emotional involvement. Phonemes skitter and scatter, just as often in reverse, lending and rending sense as they anticipate and blend in with their myriad contexts. It's all similar to the distorted opening of the titular piece, a study in internal and external rhythms emanating from the smallest gestures.
There are so many aspects to Pavone's playing that technology might highlight. Yet, maybe the most intriguing is her vibrato, a constantly changing force of discovery as varied but transient as her music as it folds, unfolds and regroups. There have been many albums I'd wished to be briefer but relatively few I didn't want to end. This is one.
Comments and Feedback: