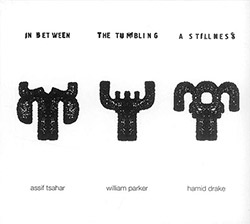 Improvised Music's most accomplished and active American rhythm team — New York bassist William Parker and Chicago drummer Hamid Drake — join Israeli tenor saxophonist Assif Tsahar for a set of unbridled free jazz that blazes with the heat of the latter country's climate. Long-time associate of the two during his American sojourn, Tsahar organized this Tel Aviv club date during which geography and time are negated and adaptation is paramount.
Expressing a kinship to Sonny Rollins' knife-sharp tone, especially when he quotes early on from "East Broadway Run Down", Tsahar dedicates his playing to affixing many extended reed techniques to textures that also expand the expositions. Adding percussive diversions that range from bulldozed ruffs to wood and rim patterning to rugged junkeroo smacks, Drake performs a similar feat, especially on the protracted, introductory "In Between". His premediated thumps and smashes emphasize varied patterns while adding a spectrum of colors. At the same time, sequences of backbeat clout and. at one point, a march tempo, solidify the three-part interface. Meanwhile, without showiness, but with calculated string slaps, thumps and pulses, Parker preserves the tunes' rhythm and linear advancement. However, he does add a few characteristic sul tasto rubs during the last few minutes.
Expressed by the bassist's concentric and echoing pumps, fluidity is never in question, even as the saxophonist embeds sharpened reed bites, altissimo doits, flutter tonguing and vibrating side slurs into his timbral elaborations. In the final minutes of the first selection the narrative descends to an assured andante pace, wrapped up by bass and drum connections. In spite of additional reed renal squeaks and keening whines, the program remains unbreakable, with a short interlude of acceleration adding a pronounced lilt of unforced swing to the penultimate minutes.
Preserving the groove throughout, Tsahar, Parker and Drake operate like a sophisticated working group — to the audience and musicians' benefit.
Comments and Feedback: