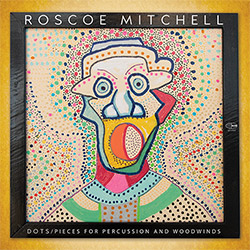 Longtime listeners to Roscoe Mitchell will be well aware of his affinity for percussion, from his earliest recordings to frequent Art Ensemble of Chicago performances where he'd be surrounded by a percussive "cage" right up through the current day. Dots is a set of nineteen improvisations, all of them employing percussion, the first half or so also incorporating reeds. No explicit instrumental information is provided, but the reeds seem to consist of sopranino and soprano saxophones (perhaps some alto as well) while the percussion lies heavily in the bells, chimes and unpitched metals area, with contributions from woodblocks or the like and the occasional drumhead.
The pieces are short, ranging from a bit over a minute to just past five and exist in a very similar landscape. Some multi-tracking is involved, noticeably with the saxophones, Mitchell sometimes sounding relatively lyrical, as on the opening "Slow Ride One", more often in his trademark acerbic fashion; his sound is unmistakable. There is a certain sameness, however. Granted that the album's title alludes to a particular approach, the kind of broadly pointillistic nature of the music begins to pall after a while. The tracks maintain a very similar dynamic throughout, rarely venturing into quiet or extended open space, also rarely running full throttle. The reeds are smeared across the jingling surface like broad daubs of paint on a bristly ground, an attractive enough proposal, but iterated with only minor variations. The percussion is always struck, never bowed, stroked or otherwise rubbed, and almost always at the same volume. These relatively short sounds — dots — aren't considered for themselves, allowed to be contemplated, but are more rushed into service. Early on in his career, it seemed to this listener that Mitchell was aware of and elaborated upon tendencies in Cagean and post-Cagean music involving space and the use of silence, but that appears to have long since gone by the board. There's a crowdedness, almost a horror vacui in play that, while fine every so often, becomes somewhat numbing over the course of so many pieces.
That said, given these "constraints" (quite possibly more in this listener's mind than that of other fans), Mitchell executes his forays admirably, with great command. Those who have enjoyed his previous explorations of similar territory will have no problem here.
Comments and Feedback: