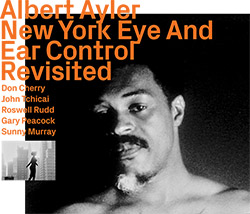 In 1964 Canadian film-maker Michael Snow invited a unique ensemble to his Chambers Street studio to record a soundtrack for a film he was then working on. The core of the group was comprised of Albert Ayler's trio of the time with Gary Peacock and Sunny Murray, abetted by Roswell Rudd, John Tchicai and Don Cherry (who would himself eventually join Ayler's band). Snow stipulated that he wanted a group improvisation with no solos and no pre-arranged lines. This record is what he got.
The opening first minute offering by Cherry and Peacock (with subtle additions from the others) sounds almost composed, so close is the interaction between them. The slipperiness of the playing belies its improvised origin. After that it's Ayler who stands front and center with everyone else supporting or commenting on his ideas, almost like witnessing a tornado picking up or tossing off collected bits of infrastructure. Starting at a frenetic pace with the bass and percussion burbling underneath, things soon spread out a bit and some light glints through the openings. There are many micro-pauses, everyone waiting to hear what's coming next. Ideas are presented and passed back and forth like a game of hot potato, with frequent side pairings and ample percussive eruptions. I find it interesting that Ayler lays out here as much as he does, giving as much space as he takes. Murray's celebrated vocalizing can be heard throughout, and Peacock's bass comes through very clearly, mostly in the left channel — it makes me wonder how this thing was recorded.
Ayler does insert a couple of his composed themes here and there, which I found rather odd at first. I suppose though that if you are not familiar with his larger body of work you won't even notice. This recording has often been touted as a companion to Ornette Colemen's Free Jazz and John Coltrane's Ascension as some sort of nexus of ensemble improvisation, and rightly so. It shows how close listening and openness can produce astounding massed sonics, even from people who are not used to playing together.
If you're at all curious, the entire film can be watched on the internet. The actual soundtrack has been edited from the session heard on the disc.
Comments and Feedback: