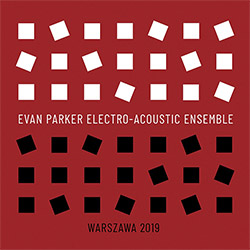 Almost a quarter century after he first recorded with a large electro-acoustic ensemble, British saxophonist Evan Parker continues to refine the concept. Inflating and shrinking in size as members join and depart; this eventful Warsaw concert involves 10 contributors. Four play acoustic instrument, two others use sampling keyboards, with the remaining four employing some combination of conventional instruments and electronic pulses.
Not that this electro-acoustic division is obvious as the single nearly one-hour improvisation judders, shakes and vibrates as one with each side of the acoustic/electric division emphasized in stages. Individually, acoustic currents from Parker's soprano saxophone, Percy Pursglove's trumpet and Sten Sandell's piano are most noticeable, though the Swedish keyboardist contributes to the wave form polyphony by playing synthesizer. Parker's expertise with extended techniques is underplayed except for a sequence of pronounced circular breathing near the conclusion. Otherwise expressive balance is maintained between reed reflective flattement, whispering mewls and barbed bites and Pursglove's heraldic brass yelps and splayed half-valve effects. Alternately the horns intersect with ring modulator clips, electronic shudders and undulating waves from samplers and turntables. As this parallelism is confirmed, the pianist's processional formalism, signaled with low-pitched accents and clipping patterns, moves the narrative forward. Encompassing brief silent sequences, sequences of synthesized crackles and ghostly growls undulate alongside reed split tones from Parker and clarinetist Peter van Bergen which threaten to destabilize the exposition. But Mark Nauseef's kettle drum bounces and Paul Lytton's electronically altered metallic drum clangs contribute to stabilization.
Spurred by constant bell-ringing and studied piano clicks the theme reasserts itself around the half-way mark, as horn vamps and doubled percussion plops usher in a more percussive interface with piano wood bangs and keyboard sampled thumps toughening the timbres, briefly interrupted by plunger trumpet tone and altissimo reed vamps. Following another of Parker's multiphonic showpieces that cut through the massed electronic oscillations, a crescendo of expressed textures from all participants is attained during the final five minutes. Here intertwined reed/brass tonal vamps, keyboard slaps and a cascade of turntable mutated retches, burps and murmurs fade together as if a switch is suddenly turned off.
Comments and Feedback: